90'+1
CLOSE! Ighalo is put through on goal but Williams does well this time to come off his line and block the effort.90′
There will be 4 added minutes.89′
GOAL FOR NIGERIA! Ekong scores from close range after keeper Williams is all at sea.89′
Simon's low cross is blocked for a corner. Zungu heads the delivery behind for another corner.-
#Drama

After a long, long VAR check, South Africa are level via the head of Bongani Zungu.#AFCON201939:35 PM – Jul 10, 2019See Eurosport UK's other TweetsTwitter Ads info and privacy
87′
Good defending from Ndidi to track back and prevent Veldwijk's shot from going on target.86′
Mothiba makes way for Veldwijk.84′
CHANCE! Nice passing move on the edge of the box, it falls to Tau whose rising shot is straight at the keeper.83′
Simon is tackled on the flank and its a corner. The delivery sees Ekong clatter Williams and its a free-kick.
OFFAHMED MUSANIGERIA
ONMOSES SIMONNIGERIA
82′
Musa makes way for Moses Simon.81′
CLOSE! Chukwueze feeds Iwobi who jinks his way ito the box but his shot is wasteful and over the bar.79′
Is surprising Super Eagles boss Gernot Rohr has not made a change given how quiet Ighalo has been.-
GOOOOAAAAL, Bongani Zungu
1-1#TotalAFCON20197729:29 PM – Jul 10, 2019Twitter Ads info and privacy333 people are talking about this77′
Musa sprints down the line and fires in a cross but its overhit.75′
Mkhize is tripped by Musa and is booked.
GOALBONGANI ZUNGUSOUTH AFRICA
74′
VAR SAYS THE GOAL STANDS! After a lengthy VAR delay, the goal is given. The ball appears to be flicked on by Ighalo rather than Hlatshwayo and was headed in by Zungu.72′
VAR is looking at the goal, did Ighalo flick the ball on?71′
DISALLOWED GOAL FOR SOUTH AFRICA! Tau's cross from the right is flicked on and Zungu heads it in but the flag is raised for off-side.70′
Another brilliant block from Furman from Musa's cross, he has been brilliant at the back.-
A reminder of the winning goal in the earlier game which sent Senegal into the semis..



Sadio Mane Idrissa Gueye

A goal made in Merseyside gives Senegal the lead in Cairo #AFCON20191076:32 PM – Jul 10, 201925 people are talking about thisTwitter Ads info and privacy66′
If Bafana Bafana get an equaliser we will have extra time. Mkhize sends in a hopeful cross but the keeper gathers easily.64′
Nigeria are aiming for their first AFCON semi-final since winning it in 2013.62′
Tau is booked for catching Musa and then has an argument with the ref.- View image on Twitter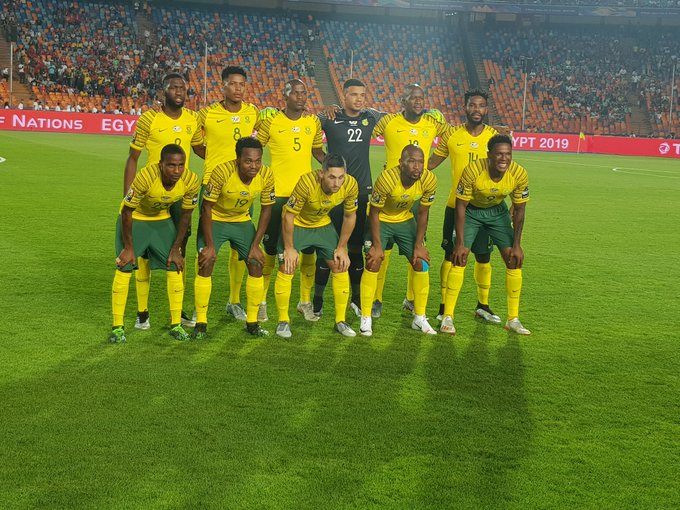 We are underway in the second half. #TotalAFCON2019459:01 PM – Jul 10, 201916 people are talking about thisTwitter Ads info and privacy–
Indeed..
52' Nigeria dominating play so far in this second half. Chukwueze and Musa tormenting the SA defence with pace and trickery. Nigeria 1-0 South Africa #SoarSuperEagles #Team9jaStrong1699:10 PM – Jul 10, 2019Twitter Ads info and privacy55 people are talking about this58′
Lorch makes way for Zwane who looks to be playing on the left wing in a straight swap.57′
CLOSE! Chukwueze outpaces his marker and slices his shot across goal and Ighalo cannot get on the end of it at the back post.55′
Tau switches to the right and wins a throw in. Mkhize hurls into the box but Nigeria clear. South Africa need to play it down the middle more.53′
The Super Eagles look to be sitting back slightly and inviting Bafana Bafana onto them which is a tad risky.51′
Good run to the byline from Musa whose low cross is blocked by Furman, who has been impressive.49′
FABULOUS SAVE! From the resulting free-kick from 25 yards, Etebo's effort is tipped onto the crossbar by Williams.48′
Skipper Hlatshwayo is booked for a reckless challenge from behind on Ighalo, who is in agony. Should South Africa progress, he would be suspended.46′
No changes made by either side. South Africa have 45 minutes to stay in the tournament.
45′
KICK OFF: South Africa get the 2nd half underway.45'+1
HALF TIME: Nigeria have created the better chanes and lead 1-0 courtesy of Chukwueze's close range finish from Iwobi's cross.45′
There will be 1 added minute.44′
CHANCE! Free-kick on the edge of the box after Tau is shoved by Etebo, who protests his innocence. Mothiba's effort is straight into the wall though.42′
GOOD DEFENDING: Brilliant tackle from Furman to dispossess Chukwueze who cut inside from a tight angle and tried to get a shot in.- View image on Twitter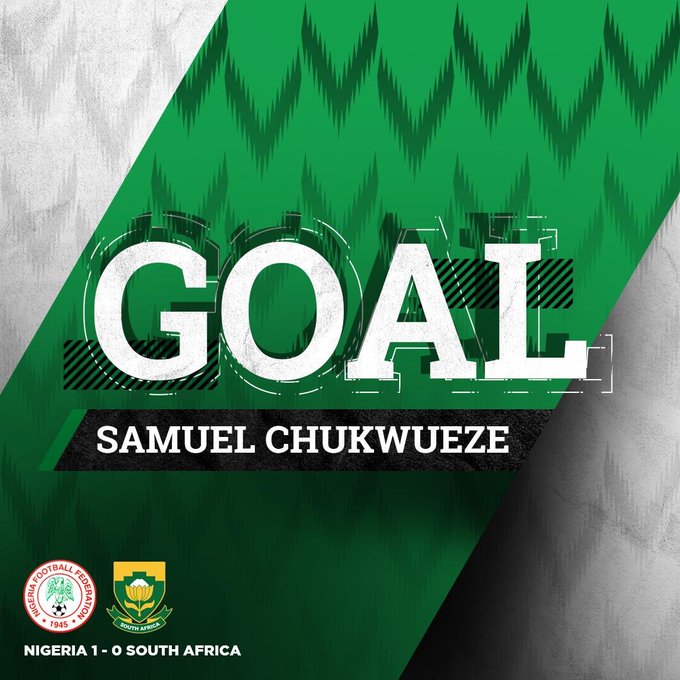 28' Chukwueze bundles in from a goalmouth scramble to give the Eagles a deserved lead. Nigeria 1-0 South Africa #SoarSuperEagles3548:31 PM – Jul 10, 2019137 people are talking about thisTwitter Ads info and privacy39′
Bafana Bafana have a free-kick midway in their opponent's half. Furman flicks it on but Mothiba handles it and its a free-kick to Nigeria.37′
Iwobi is coming more into the game after drifting to the left flank.36′
CHANCE! Musa sprints down the left, he opts to pass it early to Chukwueze whose drive from outside the box is high and wide.35′
Musa is deservedly booked for a late challenge on Furman. From the free-kick, Nigeria head it away.33′
Chukwueze apologises for an overhit pass to the left flank where Musa was sprinting clear. Its clear to see which area of the field the Super Eagles are exploiting.31′
What can South Africa muster now? It is the first goal they have conceded in the first half in the tournament. They have relied on mainly long balls thus far.-
Chukwuezeeeeeeeeeeeee! Goooooooooallllll2,1098:27 PM – Jul 10, 2019Twitter Ads info and privacy949 people are talking about this28′
It is Chukwueze's first international goal. 30 seconds earlier Musa put a cross in from a similar position which was blocked. So Nigeria are having some joy down the left flank.
GOALSAMUEL CHUKWUEZENIGERIA
27′
GOAL FOR NIGERIA! Iwobi cuts the ball back for Chukwueze whose first shot is blocked but he tucks the rebound into the bottom corner.25′
Musa pings in a long throw into the box, its flicked on by Ndidi but Bafana Bafana clear. The Super Eagles wanted a free-kick on the edge of the box but the referee waved play on.23′
Iwobi, who scored against Cameroon in the last round, has yet to get into the game. Similar to Ighalo, they have looked isolated up top.21′
The crowd light up their mobile phone lights. This game has yet to light up.19′
Lorch launches a ball over the top but its overhit. Bafana Bafana are yet to create a chance.-

Just three players (Ahmed Musa, John Obi Mikel and Kenneth Omeruo) remain from Nigeria squad that won the African Cup of Nations in 2013…

Musa and Omeruo start tonight v #Bafana. #AFCON2019387:39 PM – Jul 10, 2019Twitter Ads info and privacySee Joe Crann's other Tweets15′
Mkhize has a back injury after a collision but looks to be okay to continue. It has been a physical contest.
YELLOW CARDLEBO MOTHIBASOUTH AFRICA
13′
Mothiba gets a booking for a tug of the shirt, he had commited a foul 60 seconds earlier. He is already walking on a tight rope.11′
The ball is played into the box, Mothiba runs onto it but Lorch gets in ahead of him but snatches at his shot and its well wide from a tight angle.-


#Bafana's AFCON quarterfinals…

1996 – v Algeria (W 2-1)
1998 – v Morocco (W 2-1)
2000 – v Ghana (W 1-0)
2002 – v Mali (L 2-0)
2013 – v Mali (L AP 1-1)
2019 – v Nigeria (???)

#AFCON2019527:28 PM – Jul 10, 2019Twitter Ads info and privacy21 people are talking about this9′
From the resulting free-kick, Chukwueze's low delivery to the near post is a terrible one and South Africa clear.8′
Awazeim needs treatment after a late challenge from Hlanti, who escapes a booking.7′
Mothiba has a chunk taken out of his shirt from some tugging and has a hole in it.5′
CHANCE! Iwobi tees up Ndidi around 30 yards out and his drive is over the bar.- View image on Twitter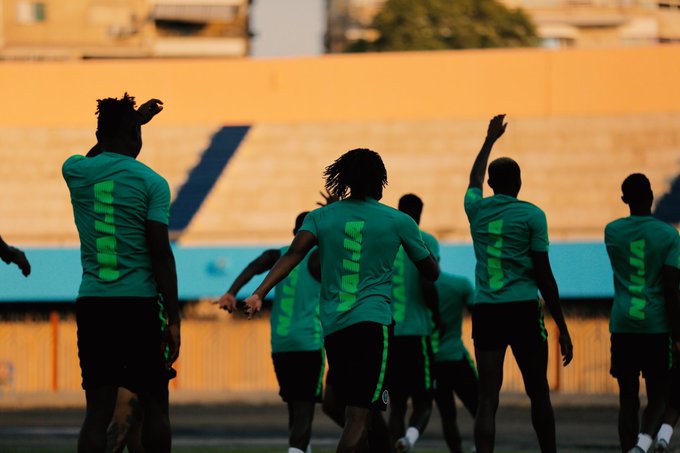 We are ready! #NGARSA #SoarSuperEagles #Team9jaStrong @CAF_Online3,4779:18 PM – Jul 9, 2019947 people are talking about thisTwitter Ads info and privacy2′
The expectation is the Super Eagles will play with high tempo from the off while the South Africans will play a cautious, defensive game.1′
Musa does well to charge the ball down, he has space down the left and pings in a dangerous cross but Ighalo is penalised for a push.20:00
KICK OFF: Nigeria get the game underway.- View image on Twitter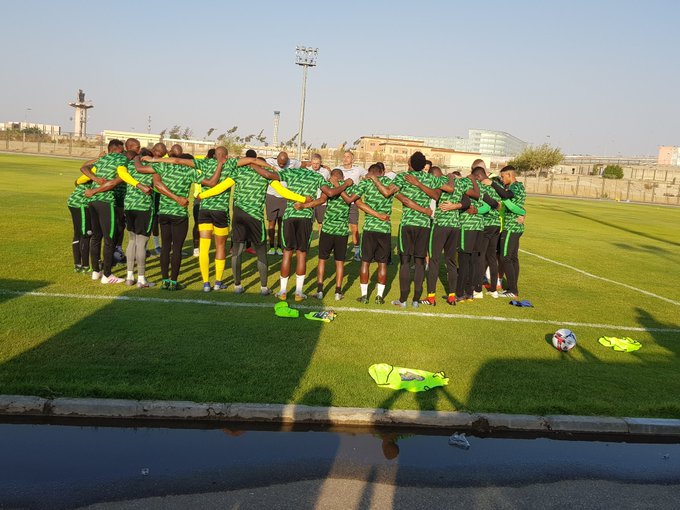 Big day for @BafanaBafana today.
Quarter final match against Nigeria kicks off at 21h00 at Cairo International Stadium2,7797:34 AM – Jul 10, 2019 · Cairo, Egypt807 people are talking about thisTwitter Ads info and privacy19:55
COUNTDOWN: 5 minutes till kickoff!19:50
Super Eagles boss Gernot Rohr is looking for more from his players despite the absence of skipper Jon Obi Mikel through injury.
"At this stage of the competition, it is important to have total concentration and avoid little mistakes," he said.
"I hope we can produce a better performance from our previous games and also progress into the semi-final."19:45
South Africa coach Stuart Baxter is pleased with his side's improving performances in the tournament.
"From the first couple of games we weren't 100% satisfied with our attacking play," the Englishman said.
"The movement around the box was not clear and we had to improve on that.
"But probably the most important thing was to play a game that I don't think Egypt expected us to play. They would have expected us, I think, to play deeper. Therefore, I wanted to press higher. And try in that way to surprise them with that game plan. I think we did it very well and I think it surprised them and I think that helped us to get a foothold in the game."19:40
The winner of this tie will face Algeria or Ivory Coast.
The Super Eagles won a thrilling contest 3-2 against Cameroon to progress while the 2010 World Cup hosts upset hosts Egypt with a late goal.19:35
Senegal are the first team in the semis after beating Benin earlier today.
Idrissa Gueye fires Senegal to semi-finals– 19:25
SOUTH AFRICA: Williams, Hlanti, Mkhwanazi, Hlatshwayo, Mkhize, Furman, Mokotjo, Zungu, Lorch, Tau, Mothiba.
Zwane is on the bench after his suspension.19:20
NIGERIA: Akpeyi, Awazeim, Ekong, Omeruo, Collins, Ndidi, Etebo, Musa, Iwobi, Chukwueze, Ighalo. Subs: Ezenwa, Uzoho, Mikel, Ogu, Onyekuru, Kalu, Simon, Balogun, Aina, Shehu, Onuachu, Osimhen19:15
Hello and welcome to Eurosport's LIVE commentary of Nigeria v South Africa in the Africa Cup of Nations quarter-final. Kickoff is at 20:00 BST.How I Earned 65,000,000 NairaADSto Buy a Car of My Dreams in Just 4 Months❯How I Earned 65,000,000 NairaADSto Buy a Car of My Dreams in Just 4 Months❯How I Earned 65,000,000 NairaADSto Buy a Car of My Dreams in Just 4 Months❯