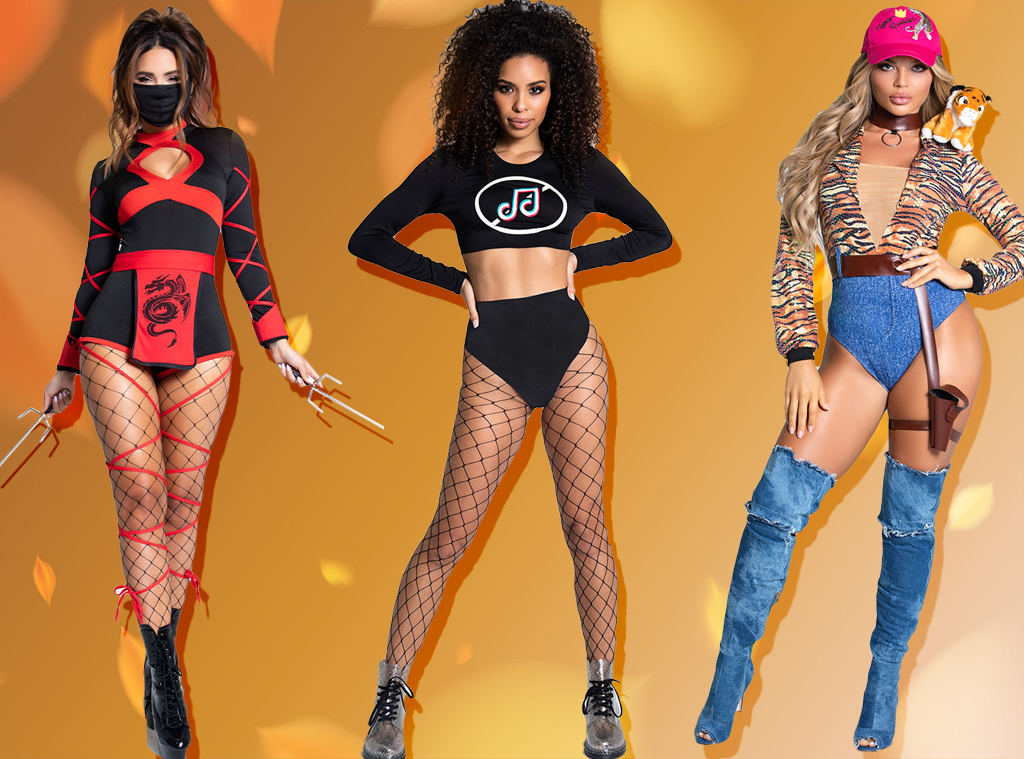 E! Illustration
We love these products, and we hope you do too. E! has affiliate relationships, so we may get a small share of the revenue from your purchases. Items are sold by the retailer, not E!.
If you're like us, as soon as Labor Day is over, Halloween is on your mind. Specifically: Where are the cool parties and what are you gonna BE for said parties?
Whether you've been planning for months, or you're down to the wire, landing on a crowd-pleasing Halloween costume that makes you feel great is tricky, but doable.
There are loads of factors to put into play: for instance, what kind of event are you attending? Maybe you've been crushing it extra hard at the gym and you want to showcase the new you. Whatever the affair is, there's idea that will never lead you in the wrong direction: the "sexy" costume. 
You know the kind: a wholesome idea in theory (Minnie Mouse, perhaps) or a nerdy homage (Harry Potter, maybe) put through the Halloween costume gods blender and reworked into a sexy showcase (i.e. form fitting and skin-baring).
To quote Mean Girls alum Cady Heron, "Halloween is the one time of year a girl can dress like a total slut and no other girl can say anything about it."
That said, we've pulled a cornucopia of sexy costumes—from Pennywise to Bob Ross—to help get you in the spirit of the season.  
Yandy Banned App Costume
Well, TikTok has been banned. But you can commemorate the beloved app in this silly costume. 
Got the Juice Costume
Sexy Beetlejuice? Sign us up. This set comes with a white cami, a black-and-white striped jacket, a black panty, a mesh tie, footless stockings and, of course, a wavy green wig.
Still Pretty Lady Costume
Make like Julia Roberts in this Pretty Woman costume. It comes with a dress, layered necklaces and a blonde bob wig.
Let's Taco Bout It Costume
Wear the food you've been lusting over. This taco dress is affordable and fun.
Regal Skeleton Queen Costume
Scare them to the bone in this skeleton costume. It comes with a dress, tights and skull crown.
Despicable Human Costume
Be a sexy minion in this costume that comes with a yellow shirt, overalls, glasses and a headband.
Yandy Tiger Queen Costume
All you cool cats and kittens should really snatch up this costume inspired by the one and only Tiger King. It comes with a romper, leg garters, an attached stuffed tiger, a choker and a trucker hat.
Creationary Woman Costume
Eat the forbidden fruit in this Eve costume, complete with a stuffed snake and apple clutch. 
Sexy Evil Mastermind Costume
Riddle me this: Why be Batman when you can be a sexy villain in this cute romper with a top hat?
Sexy Minnie Mouse Costume
We already have your Instagram caption for the night: "I'm a mouse, DUH!"
Sexy Bob's Burgers Costume
Sexy Raccoon Costume
Nightlife has a new queen! Be a nocturnal hottie in this sexy raccoon jumper with a detachable fur hoodie.
Sexy Dumbo Costume
Yes, you read that correctly: Sexy. Dumbo. Costume.
Sexy Cowardly Lion Costume
Sexy Mr. Rogers Costume
Won't you be our neighbor in this costume?!
Sexy Pokémon Trainer Costume
Up next, Halloween costume ideas inspired by Emmys 2020 nominees. And if you're not done shopping yet, sign up for the Shop With E! email newsletter!
—Originally published Wed, Sep 18, 2019 at 4 a.m. PT