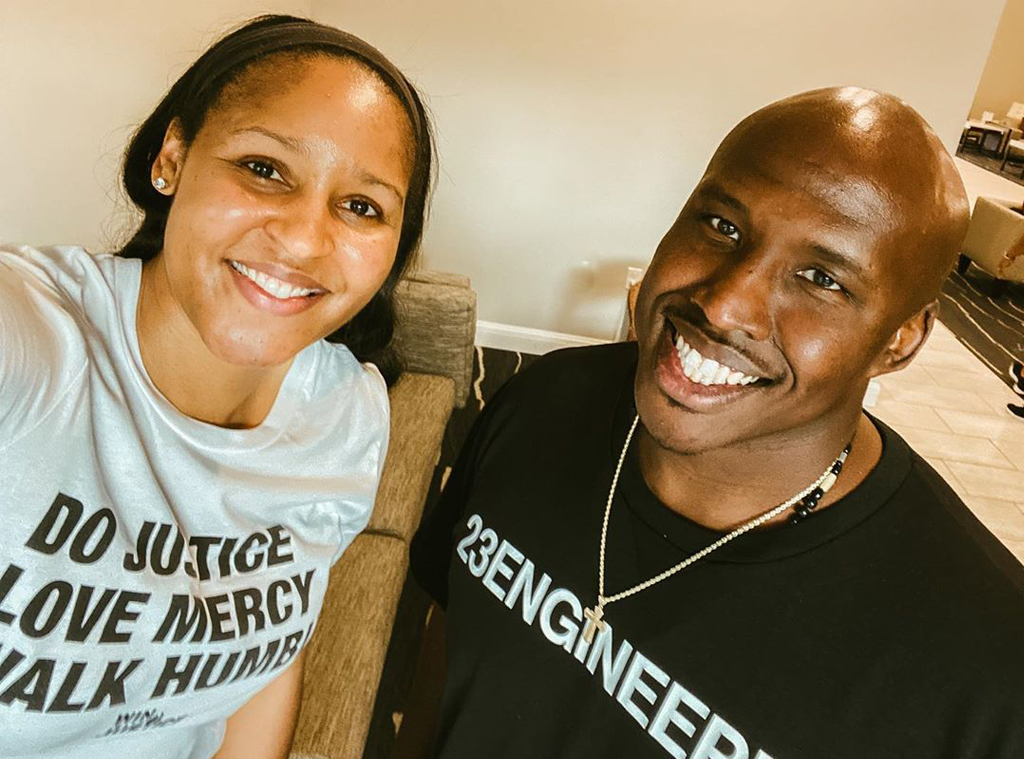 Instagram
Maya Moore and Jonathan Irons are married!
Maya and Jonathan revealed they are now newlyweds in an interview with Good Morning America's Robin Roberts. The WNBA star shared, "We wanted to announce today that we are super excited to continue the work that we are doing together, but doing it as a married couple… We got married a couple months ago and we're excited to just continue this new chapter of life together."
Their socially distanced wedding took place shortly after Jonathan walked out of prison a free man in late June. 
From the time she was 18, Maya and others advocated for his release, believing that he was wrongfully convicted for the murder of 38-year-old Stanley Stotler. Eventually, a Missouri judge overturned Irons' conviction, citing the fact that prosecutors didn't inform his defense team of a fingerprint report that could've proved his innocence, among other errors in the trial. 
It was during this fight for justice that Maya and Jonathan said they fell in love. As Maya explained it, "Over the last 13 years we have just developed a friendship and just entered into this huge battle to get him home and just over time it was pretty clear what the Lord was doing in our hearts and now we're sitting here today, starting a whole new chapter together."
Jonathan added he previously proposed to her while he was incarcerated but told her not to respond, because he didn't want to hold her back. "I wanted to marry her but at the same time protect her because being in a relationship with a man in prison, it's extremely difficult and painful," he explained. "And I didn't want her to feel trapped and I wanted her to feel open and have the ability any time if this is too much for you, go and find somebody. Live your life. Because this is hard." 
However, his release from prison gave him the opportunity to make things official and take the next step in their romance. He said that he popped the question to Maya on the same day he walked out of prison. He shared, "When I got out we were in the hotel room we had some friends in the room, it was winding down and we were extremely tired, but we were still gassed up on excitement… And I got down on my knees and I looked up at her and she kind of knew what was going on and I said, 'will you marry me,' she said, 'yes.'"
Kim Kardashian Tells Alice Johnson She's Getting Out Of Prison
Now, the couple is focused on starting their lives as newlyweds and helping those who are "less fortunate."
Additionally, Maya said she will reevaluate her future in the WNBA in the spring, explaining, "Right now I am trying to really just breathe from this long, long battle and enjoy and rest. There's a lot of unknowns for a lot of us right now so I'm still in that camp."