1 min ago
Security officials are testifying on failures during the Capitol riot. Here's what you need to know. 
From Bioreports's Whitney Wild and Zachary Cohen
The Senate hearing on the Capitol riot has begun. Americans could hear for the first time today why intelligence and operations failed dramatically on Jan. 6 from the very people whose choices contributed to the crisis — information that will likely help shape the search for new leaders and possibly a new security management structure on Capitol Hill.
The Senate Homeland Security and Government Affairs and Senate Rules committees are holding an open hearing during which they will likely grill current and former law enforcement officials about how such a catastrophic failure occurred, and how to prevent it in the future.
The witnesses are:
Former US Capitol Police Chief Steven Sund
Former House Sergeant at Arms Paul Irving
Former Senate Sergeant at Arms Michael Stenger
Acting US Metropolitan Police Chief Robert Contee
Contee has already spoken before lawmakers in a closed-door hearing, but the testimonies of Irving, Stenger, and Sund could be monumental.
All three played critical roles in deciding how to prepare for the rally on Jan. 6, and yet, Americans have heard hardly anything from any of them.
Sund has spoken sporadically. His loudest statement to date arrived in a letter he sent to congressional leadership detailing the decision-making process leading up to Jan. 6 and his response once the rally turned violent.
9 min ago
Go There: Bioreports will be live from DC, answering your questions about today's Capitol riot hearing
The Senate is holding its first public hearing today on the Capitol Hill attack. Bioreports's Crime and Justice Correspondent Shimon Prokupecz is reporting live from DC.
What questions do you have? Leave them in the form below.
6 min ago
Intel briefings before Capitol attack found "remote" chance of civil disorder, official will tell Senate
From Bioreports's Marshall Cohen 
A former top Capitol security official plans to tell lawmakers today that intelligence assessments before the Jan. 6 attack incorrectly concluded that there was only a "remote" to "improbable" chance of a civil disturbance that day, according to prepared testimony. 
 "The intelligence was not that there would be a coordinated assault on the Capitol, nor was that contemplated in any of the inter-agency discussions that I attended in the days before the attack," Paul D. Irving, the former Sergeant at Arms for the US House of Representatives, plans to say in his opening statement.  
Irving is one of several officials who will likely be grilled during an open hearing by the Senate Homeland Security and Government Affairs and Senate Rules committees on security failures related to the Jan. 6 riots.
The list of those testifying includes former US Capitol Police Chief Steven Sund, former Senate Sergeant at Arms Michael Stenger and acting DC Metropolitan Police Chief Robert Contee.
Irving said US Capitol Police got intelligence from the FBI and DHS, and neither agency "assessed or forecast a coordinated assault on the Capitol like the one that took place."
"And for each of the days leading up to January 6 — and indeed, on January 6 itself — the USCP issued a daily intelligence report in which it assessed the potential for civil disobedience and arrests as 'remote' to 'improbable,'" Irving will say. 
18 min ago
The key signs law enforcement missed ahead of riot at the Capitol
From Bioreports's Evan Perez, Jeremy Herb, Geneva Sands and Priscilla Alvarez,
Despite weeks of planning between federal and local police agencies ahead of the Jan. 6 Trump rally — including tracking social media — officials said that going into that day they had no intelligence indicating there was a threat the US Capitol could be overrun.
It would turn out to be a catastrophic failure after an angry mob overwhelmed police and stormed into the Capitol building, ransacking lawmakers' offices, injuring dozens of officers and stealing electronics and documents that could possibly include sensitive national security information.
Five people died during the riots, including a woman shot by US Capitol Police and a police officer.
During conference calls that included federal agencies and the city's police ahead of the rally, federal law enforcement officials say the US Capitol Police assured counterparts they had the situation under control — they knew how to deal with large demonstrations at the Capitol, in large part because the complex was already being prepared for Inauguration Day, one of the most secure events in the city, according to sources familiar with the matter.
Federal and local officials said they did not have intelligence suggesting any violent mob was preparing to attack the Capitol, even as demonstrators were publicly saying on social media they were not planning a typical protest.
Of course, there were reports of violence when Trump's backers had come to town last month, and the FBI was monitoring everything from social media to the hotels where some of the rioters were staying.
One sign of the preparations came in the days before the rally, when, acting on the FBI's intelligence information, Washington's Metropolitan Police arrested Enrique Tarrio, leader of the Proud Boys, after he left the airport en route to his hotel.
He was charged for his role in destroying a Black Lives Matter banner at a previous Proud Boys march in Washington, and prosecutors later added charges for carrying two extended ammunition magazines that are illegal in the city. As part of his release, a local judge told him to leave town and to stay away from Wednesday's rally.
Police were caught flat-footed the next day. DC Police Chief Robert Contee told reporters there was no intelligence that suggested there would be a breach of the US Capitol on Jan. 6. Three DHS sources, who usually receive such reports, were unaware of a threat assessment being shared from the DHS intelligence office ahead of Wednesday's siege.
Read the full story here.
2 min ago
These are the security failures former Capitol Police chief Sund believes took place on Jan. 6 
From Bioreports's Peter Nickeas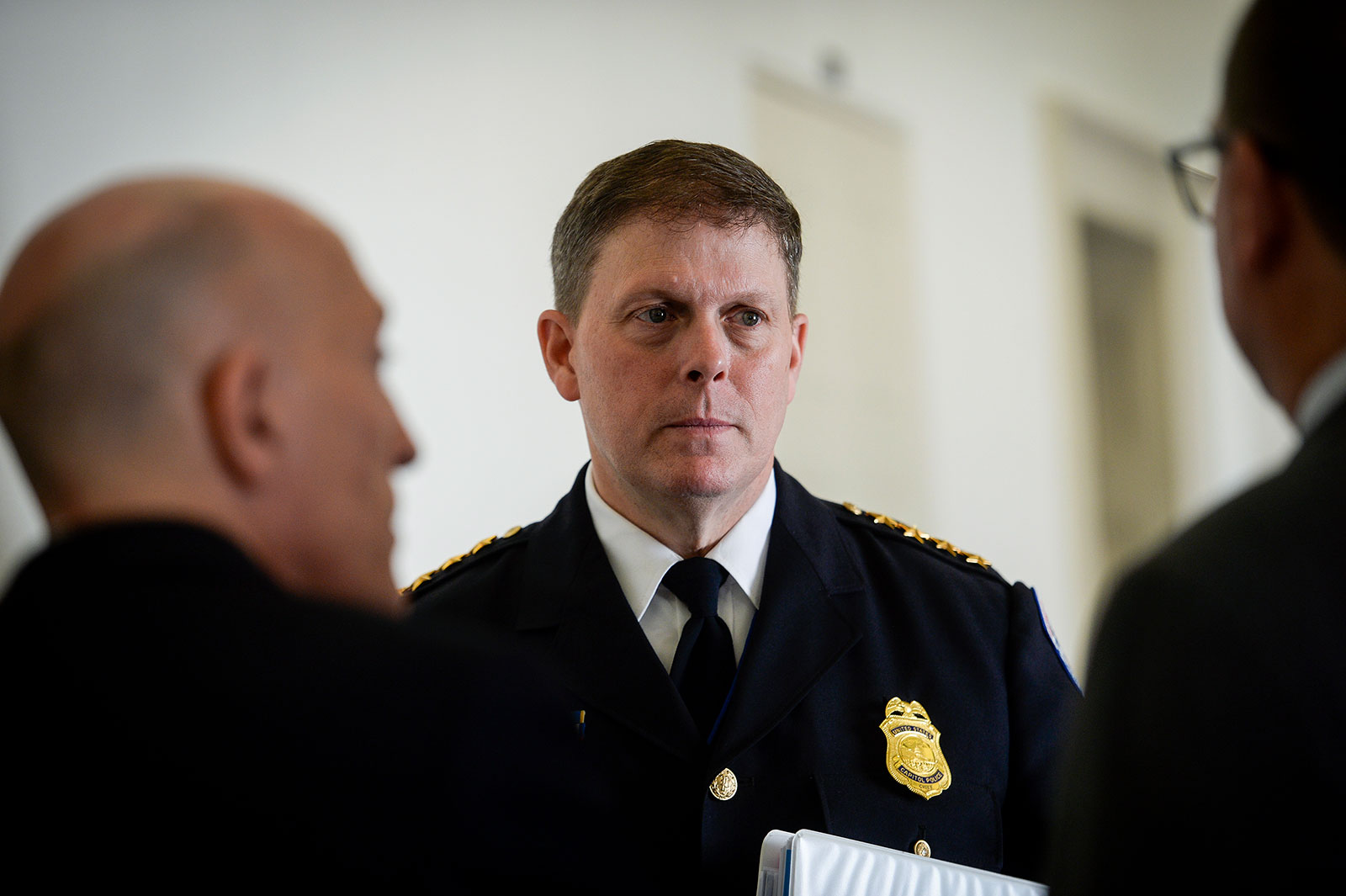 Former United States Capitol Police Chief Steven Sund is set to testify this morning in the Senate on the security failures that took place before and during the Capitol riot. Five people died as a result of the attack, including a Capitol Police officer.
Earlier this month, Sund provided Congress with the clearest timeline yet of the events leading up to and including the Jan. 6 insurrection, while naming other law enforcement agencies and a slow bureaucracy that both harmed the department's ability to secure the building that day.
Bioreports obtained a copy of the Feb. 1 letter, addressed to House Speaker Nancy Pelosi and the ranking members of each party in the House and Senate. In it, Sund details the intelligence briefing process and the delays Capitol Police had in getting aid once the assault on Congress was underway.
Here are some key parts of what he noted in the letter:
On intelligence: Sund's account alleges a failure of the FBI, US Secret Service, Department of Homeland Security and the DC Metropolitan Police Department to anticipate violence on that day, and said it was reasonable to rely on that intelligence since earlier pro-Trump rallies had been similarly assessed and were not violent. "The entire intelligence community seems to have missed this," he wrote.
On resources: Sund also wrote it was clear to him that within minutes of the mob arriving at the west front of the Capitol, the "situation was deteriorating rapidly" and that the agency didn't have the resources it needed to keep the Capitol secure without help from outside agencies.
On delays in aid: Sund also provided a timeline for the aid he sought from local law enforcement agencies and National Guard units, and an accounting of the meetings he had after the perimeter had been breached while he sought assistance. It took more than four hours for requested Guard troops to get sworn in at the Capitol, and more than 1,700 police officers from 18 nearby jurisdictions convened at the Capitol in the interim to clear the building of people and potentially hazardous materials.
At least two officials, Army Lt. General Walter Piatt and former House Sergeant at Arms Paul Irving, cited the "optics" or "visuals" of deploying the National Guard in their hesitance to deploy them, according to Sund's accounting.
The tone of the letter at-times appeared defensive and Sund took issue with the use of the term "fail" to describe the US Capitol Police's conduct that day.
"I do not believe that the US Capitol Police failed," Sund wrote. "Greatly outnumbered and against tremendous odds, they kept the Members safe."
The US Capitol Police force is part of Congress and has the sole responsibility for the building's security. The agencies cited in Sund's letter are part of the executive branch of government and don't have authority to force USCP to take any action.
42 min ago
All 4 requested witnesses plan to testify at today's hearing on the Capitol attack
From Bioreports's Jessica Dean
All four of the requested witnesses are slated to testify during today's Senate hearing on the Jan. 6 Capitol attack, according to two sources familiar with the plans.
The Senate Homeland Security and Governmental Affairs and Senate Rules committees invited the following witnesses to testify based on their critical roles in security planning for the joint session of Congress on Jan. 6:
Metropolitan Police Acting Chief Robert Contee
Former House Sergeant at Arms Paul Irving
Former Senate Sergeant at Arms Michael Stenger
Former United States Capitol Police Chief Steven Sund
As Bioreports previously reported, a committee aide described Tuesday's hearing as a first opportunity to get answers to key questions surrounding the events of Jan. 6, including why the response from law enforcement was delayed and why the rioters were allowed to breach the building.
42 min ago
At least 250 people have been charged in connection to the Capitol riot
From Bioreports's Paul Murphy, Marshall Cohen and Hannah Rabinowitz
Federal prosecutors have charged at least 250 people in connection with the Capitol riot, according to a Bioreports analysis of court records and Department of Justice announcements.
These defendants come from 40 states and the District of Columbia, according to a Bioreports analysis. 
Not surprisingly, there are more defendants hailing from the largest states in the country, like Texas, Florida, Pennsylvania, New York and California. But when analyzed on a per capita basis, the states with the most defendants as a share of the population are Montana, Biden's home state of Delaware, and Pennsylvania. 
There are 10 states that don't have any defendants – primarily smaller states scattered across the country. 
Ryan Ashlock of Westwood, Kansas, was the latest to be charged. He is facing charges of conspiracy, obstruction of law enforcement during a civil disorder, obstruction of Congress and knowingly entering or remaining in a restricted building.  
The conspiracy charge is in connection with a group of five other individuals, said to be associated with the Proud Boys, that investigators previously charged with conspiracy in connection to the Capitol riot.  
"ASHLOCK moved closely with the other subjects in proximity, but also appeared to gesture and communicate to one another before entering the Capitol in an apparent effort to coordinate their efforts, before ASHLOCK ultimately separated from the other subjects," investigators wrote in an affidavit.  
Like the others charged by prosecutors in the conspiracy, investigators say that Ashlock wore orange tape on his clothing, in addition to, "tactical style gear, including a vest, goggles, knee pads, and gloves."
They also identified him as an individual seen in video pushing against a police barricade outside the Capitol and being pepper sprayed by police. 
There's no information, according to the affidavit, that Ashlock made it into the Capitol building.  
The FBI investigator that authored the affidavit also explicitly stated it's still under investigation, saying that there may be others that could be charged in this specific conspiracy.