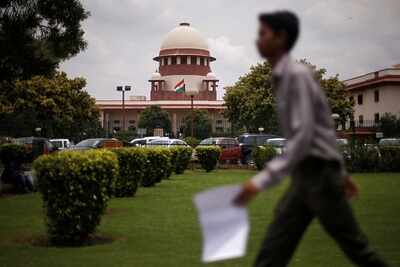 NEW DELHI: Starting with a stern "don't make it difficult for the students" line, the Supreme Court on Monday was able to make Institute of Chartered Accountants of India (ICAI) to agree to give 'opt-out' option to 3.5 lakh candidates mid-way through the ongoing examination amidst raging Covid-19 pandemic.
ICAI through its counsel Ramji Srinivasan appeared alive to the difficulties faced by students in reaching around examination Centres and arranging their lodging when it informed a bench of Justices A M Khanwilkar, Dinesh Maheshwari and Sanjiv Khanna that it has agreed to give candidates the option of opting out of the ensuing examination and appear again in November without any loss of academic session.
But, the bench the Covid flare ups in different states is unpredictable and it could so happen that an area where the examination centre is located goes under lockdown because of a sudden spike in the number of Covid cases there. "Should the students be not given an option to 'opt-out' of examination mid-way," it asked.
Senior advocate Srinivasan said that of the 3.54 lakh candidates who would be appearing in the examination, only 54,000 have so far exercised the option of opting out. But, the bench said, "the situation is difficult. Anyone who is not able to appear in the examination should be considered to have exercised the 'opt-out' option, even if he has not exercised that option prior to the examination. The Covid pandemic situation is changing. Today a student might be confident of appearing in the examination. Tomorrow he may fall in an area which is under lockdown and he could also get infected by the virus. You (ICAI) have to factor in all these to provide the opt-out option to students even during the examination."
Appearing for petitioner Anubha Shrivastava Sahai, advocate Alakh Alok Srivastava had challenged the opt-out option saying it was discriminatory and had requested the SC to direct the ICAI to set up examination centre at every district of India to allow candidates to appear in it without facing problems relating to conveyance and lodging during the pandemic. However, the SC refused to accept both the prayers though it wanted to ease the difficulties faced by the students.
The bench was informed by Srinivasan that ICAI would issue a notification reflecting the crux of today's proceedings and agreement of ICAI on exercising the opt-option at any stage of the examination, which is scheduled to get over on August 16. The SC posted hearing of the matter for hearing on July 2, when ICAI would show it the draft notification on tweaked opt-out scheme.

FacebookTwitterLinkedinMail