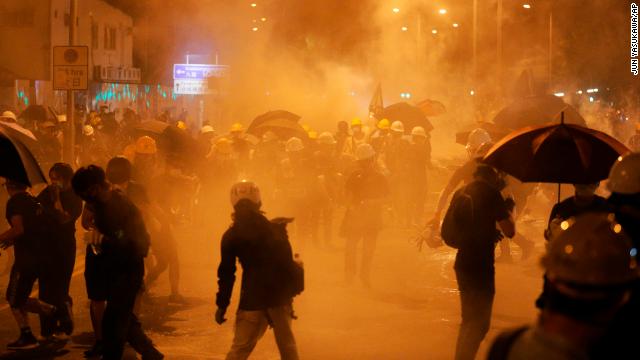 Our live coverage of the protests in Hong Kong has ended, but here's what we know:
What happened: Protesters stormed and vandalized the legislative building in Hong Kong. These protesters broke away from the annual July 1 march that marks the anniversary of when Hong Kong was given to China. There were other demonstrations that remained remained peaceful.
Why they were protesting: People were protesting a bill that would allow China to extradite Hong Kong citizens. Critics worry China would use the bill to prosecute people for political reasons and that it would erode freedoms people in Hong Kong have.
Where the bill stands now: The city's Chief Executive Carrie Lam, speaking at a news conference, said that she doesn't intend to continue debating the bill, and that it will expire in July 2020 at the end of the term.
What happens next: Protesters have made several demands — the complete withdrawal of the extradition bill is only one of them. They are also calling for Lam to step down as well as an investigation into police brutality, a retraction of the characterization of the protests as riots and the release of arrested protesters.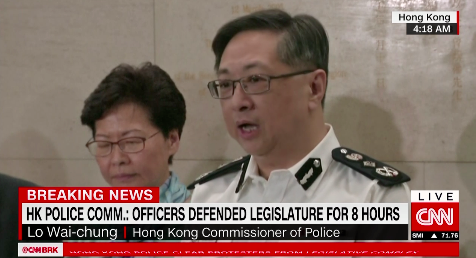 Asked why police left the legislative building before protesters broke in, Police Commissioner Stephen Lo Wai-chung cited several reasons including some of the lights getting turned off.
Here's what he said:
The electrical box: He said some protesters were tampering with the electrical box, turning some of the lights off in the legislative building. The commissioner said he was worried about all the lights going off and a "wrong move" would be made on either side in the darkness.
Increase violence: Protesters started to use violent tactics to charge the inner doors while they were outside the main entrance, the commissioner said.
The "local environment:" He said that because police were inside the building, they were not able to use the same methods of force they would use to control the situation in a more open space.
Unknown chemicals: The commissioner described protesters throwing "white smoke" at officers. He said he was worried because 13 officers were hospitalized after "toxic powder attacks" on Monday afternoon.
Thirteen police officers have been hospitalized after clashes with protesters in Hong Kong on Monday, the city's police commissioner said.
The commissioner told reporters a chemical powder was thrown at police, adding that the action "crosses a line." 
"Hong Kong is a safe society and none of this violence is acceptable," he said, adding, "Police had no choice but to retreat."
Hong Kong's Chief Executive Carrie Lam strongly condemned Monday's violent protests at the government headquarters.
"I hope the community at large will agree with us that with these violent acts that we have seen, it is right for us to condemn it and hope society will return to normal as soon as possible," she told reporters.
Lam went on to describe the protests as "two completely different scenes: one was a peaceful and rational parade…the other one was a heartbreaking, shocking, and law-breaking scene."
She also said they will take necessary legal action. 
-'s Chandler Thornton contributed to this report.
Hong Kong's leader Carrie Lam will hold a media briefing at police headquarters at 4 p.m. ET after a night of protests and police intervention across the city.
Several hundred, mostly young, activists were inside the Legislative Council building for hours before leaving late on Monday night.
Inside, they spray-painted slogans in Cantonese on the walls of the legislative chamber, tore down portraits and raised a black banner, that read: "There is no way left," mounting an open challenge to China and Lam.
Claudia Mo, a pro-democracy legislator in Hong Kong, said protesters who stormed into the Legislative Council building are angry and frustrated with their government.
"They're not inside that legislature doing all that vandalizing for fun. They were angry," she told -'s Hala Gorani.
While Mo did not condone the vandalism, she said she sympathized with protesters.
"All the pictures you are seeing are shocking and they are unexpected, but then I hope the world wouldn't just blame the young. You have to understand their temper, anger and frustration and resentment, hostility in particular against this legislature, which is just a rubber-stamping body. It's a rubber-stamping body because it's being dominated by Beijing minions and they outnumber the Democrats like myself included," she said.
Mo called on the city's embattled Chief Executive Carrie Lam to come out "sincerely and genuinely" to address residents "as soon as possible."
A group of protesters stormed the Hong Kong government headquarters on Monday.
They smashed glass doors, pried open metal shutters to enter the building and spray-painted slogans on the walls of the Legislative Council chamber.
This is what the damage looked like: