– More revelations concerning the illegal activities of Nigerian big boy Hushpuppi have emerged
– Hushpuppi who is known for flaunting his wealth on social media was involved in laundering unemployment benefits
– According to the FBI, Hushpuppi's email contains receipts of bank logs he bought from a website
PAY ATTENTION: Click "See First" under the "Following" tab to see . News on your Facebook News Feed!
The Federal Bureau of Investigations (FBI) has revealed how Nigerian Instagram celebrity Ramon Abbas, popularly known as Hushpuppi was involved in laundering unemployment benefits meant for US citizens, Premium Times reports.
The fresh allegation is contained in an affidavit filed on Monday, September 14, with the United States District Court, according to Andrew John Innocenti, an FBI agent trained on cybercrime.
. recalls that the big money spender was arrested in Dubai, alongside one Mr. Woodbery and several others, by Interpol and the FBI in Dubai.
Hushpuppi, who is currently facing charges in the United States has been accused of facilitating computer intrusion, Business Email Compromise (BEC) fraud, and money laundering among others.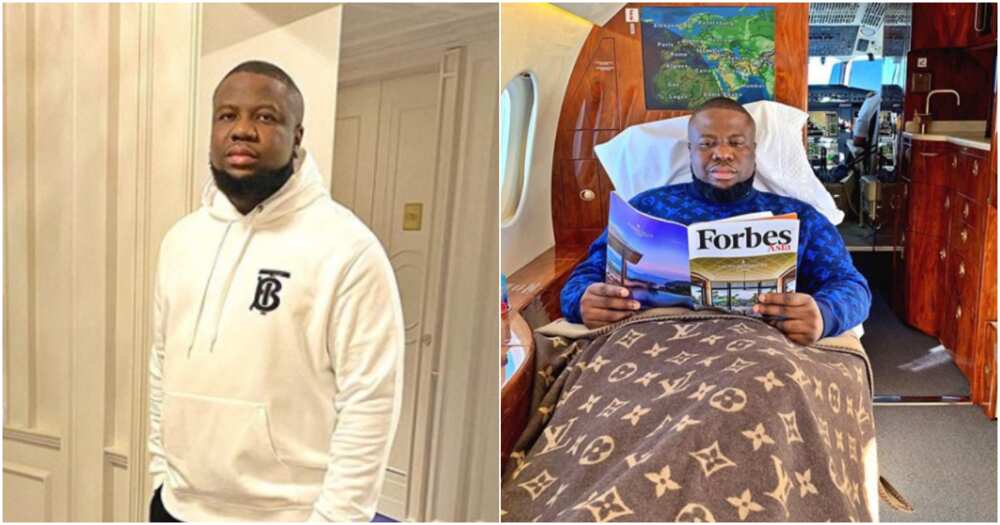 New evidence shows how Hushpuppi laundered U.S. unemployment benefits. Photo credit: hushpuppi.
Source: Instagram
Innocenti who indicted Hushpuppi in his investigation said the Instagram celebrity used his personal email address to register on a website called whizzlog.com. Whizzlog is a marketplace known for buying US Bank Logs and money laundering.
According to him, sophisticated cyber criminals don't use their personal email addresses in registering on such websites, however, Hushpuppi did.
The FBI agent narrating the outcome of his investigation said Hushpuppi's email account contained registration contamination from the website as well as other confirmations and receipts of bank logs bought.
It was discovered that after creating an account, Whizz Log sells only accounts that have been used to claim unemployment benefits of victims in the United States in bulk on the website
He added that the prices of bank logs range from $600 to S1,000 and balance in accounts sold ranges from $4,000 to $12,000, he noted.
The bank logs are available for purchase immediately and payment is made using Bitcoin.
"Cyber criminals who purchase the bank logs can launder the money off through various means. The favorite means on Whizz Log is to buy Bitcoins with the balance in the bank log Whizz Log specifies if a bank log is "BTC Compatible" or not.
"Based on my training and experience, a bank account is "BTC Compatible" if you can buy Bitcoins from within the bank log. Some banks allow clients to directly purchase Bitcoins from their online bank account. Such banks are "BTC Compatible".
"All the credits into the account were from the Department of Unemployment Assistance totaling $7,302.15," he said.
Earlier, . reported that investigations have commenced into the alleged fraudulent activities of Hushpuppi, on how he and his gang attempted to dupe a Premier League club to the tune of £100m (N48bn).
Over 10 days after the arrest of the alleged fraudster, the Dubai police released a footage that captured the operation dubbed 'Fox Hunt 2' that led to the arrests.
FBI director, Christopher Wray, has extended his appreciation to the government of the United Arab Emirates (UAE), represented by the Dubai Police General HQ, for the concerted efforts in arresting alleged fraudsters.
PAY ATTENTION: Download our mobile app to enjoy the latest news update
In a related development, top Chicago lawyer Gal Pissetzky hired by Hushpuppi to defend him has spoken out after viral reports that the fraudster dumped him.
It was reported that the internet fraudster dumped Pissetzky for a government attorney after his case was transferred to a court in California.
Reacting to the story on his official Instagram page, the Chicago lawyer shared a photo of the report done as he referred to it as fake news.
Lasisi Elenu Interview – What I learnt from Hushpuppi – Star Chat | .