– A man has made a distress call to the government to rescue him from the den of injustice
– Olupelumi Fagboyegun, in a viral video, alleged that he is being illegally tried and openly remanded in Ondo state
– Governor Rotimi Akeredolu has ordered a prompt probe into the matter, reinstating his commitment to protect the state judiciary
PAY ATTENTION: Join Bioreports Telegram channel! Never miss important updates!
Governor Rotimi Akeredolu of Ondo has ordered the police to begin an investigation into an allegation of illegal trial and detention levelled against the chief justice of the state, Justice O Akeredolu by her "brother" Olupelumi Fagboyegun.
In a viral video, Fagboyegun had urged the federal government and Nigerians to come to his "rescue", alleging that he has been kept in remand due to the manipulation of justice by the Ondo state judiciary."
Fagboyegun, who claimed the Ondo judiciary is being run as a "family affairs", said he has been in detention for three years on the order of Justice Akeredolu who he shares same father with.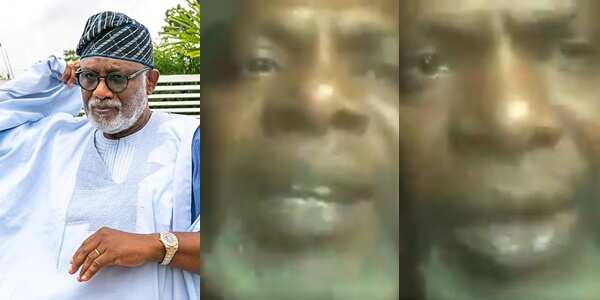 Governor Akeredolu orders probe in the case of a man in viral video, alleging he is being persecuted in Ondo.
Credit: @RotimiAkeredolu
Source: Twitter
The man said in the video:
"I have been living abroad for over 30 years. I came on holiday to Nigeria to my father's house. Because I share the same father with the chief justice of Ondo state, I was arrested. I was locked up and I was charged with forceful entry into my father's house.
"I have been on open remand for the past three years. This case has been ongoing for three years because the chief justice of Ondo state is using her power to influence the judicial system.."
Responding to the distress call, Governor Akeredolu said the matter will be investigated, adding that he is "determined to preserve the integrity of the court and ensure it remains the last hope of common man."
PAY ATTENTION: Install our latest app for Android, read best news on Nigeria's #1 news app
Meanwhile, in his position as the chairman of the Southwest Governors' Forum (SWGF) Governor Akeredolu has dabbled into the mounting ethnic tension in Shasha community of Ibadan, Oyo state.
In a statement on Sunday, February 14, Governor Akeredou maintained that all hands must be on deck, warning that actions stoking ethnic tension in the southwest will not be condoned by the government.
*******
Rahaman Abiola is a result-oriented journalist and content writer with a firm grip of over 5-year corporate experience stranding diverse roles in digital & traditional media and social media communication.
A published literary writer, freelancer and public commentator, he has written over 100 essays covering diverse issues on economy, politics and current affairs, entertainment and leadership published in virtually all notable Nigerian national dailies and digital media in Nigeria.
He is a graduate of English Literature, Obafemi Awolowo University, Ile-Ife. Follow him on Twitter via @ShugabanR.