44 min ago
Macron urges European countries to allocate 4-5% of vaccine supply to developing countries
From Niamh Kennedy in Dublin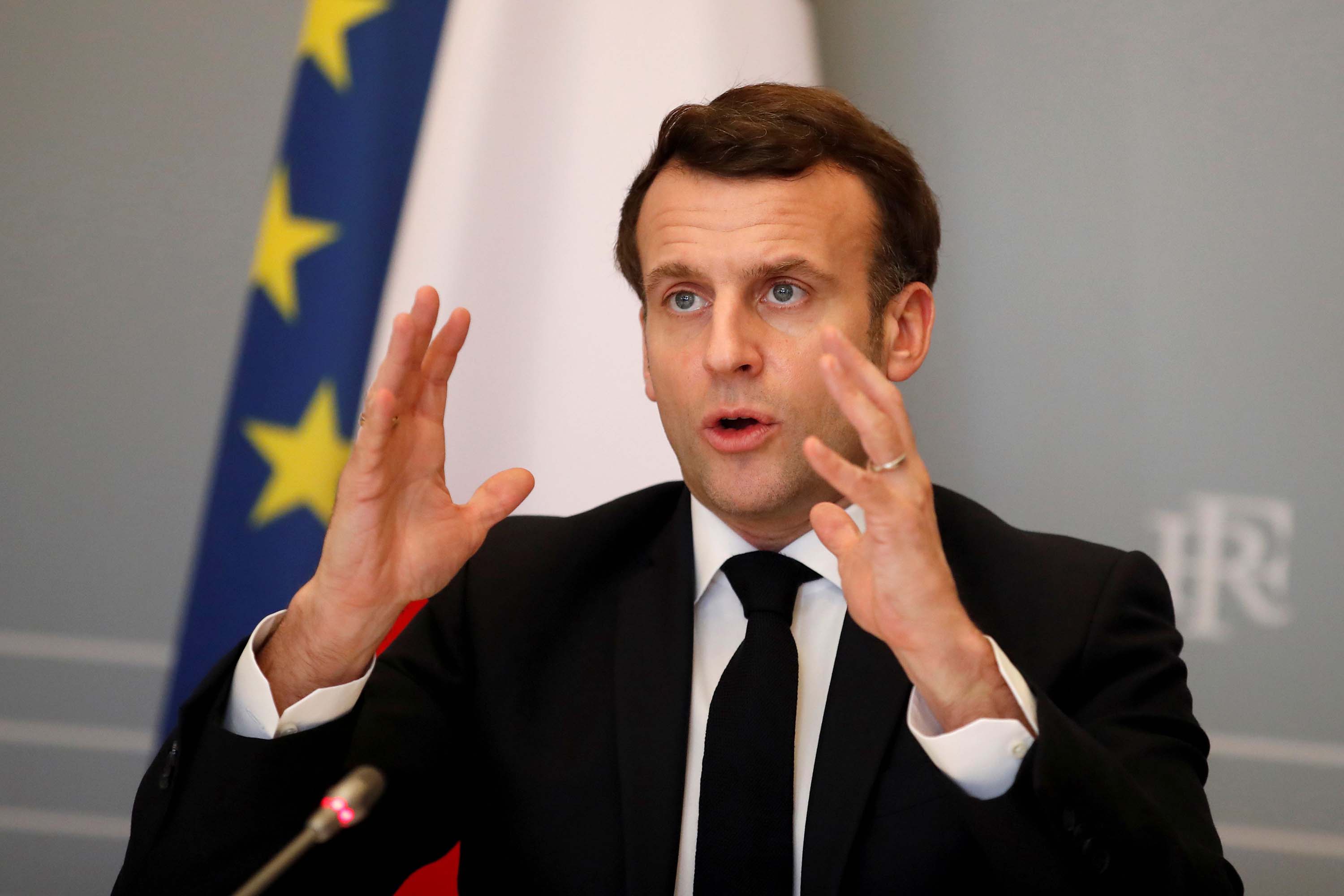 European countries should allocate 4-5% of their vaccine supply to developing countries, French President Emmanuel Macron has urged ahead of the G7 virtual meeting Friday where the issue is expected to be discussed.
In an interview with Financial Times, Macron said the battle for vaccine supply had caused "a new form of unsustainable inequality" to emerge between developed and developing nations. 
"We are allowing the idea to take hold that hundreds of millions of vaccines are being given in rich countries and that we are not starting in poor countries," Macron said.
Macron stressed that inequality in vaccine distribution would also be "politically unsustainable" as it's paving the way for "a war of influence" over vaccines, referring to China and Russia, which already began supplying their vaccines to countries in Latin America and Africa.
"We're not talking about billions of doses immediately, or billions and billions of euros," Macron said, adding that countries just need to "reallocate some tens of millions of doses" to Africa in particular "very quickly."
Macron said it would be in the bloc's "interest" to allocate a "tiny sample" of 4-5% of European vaccine supply, and vowed to take on big pharma companies not willing to "play the game of cooperation."
The French president has so far secured the support of German Chancellor Angela Merkel and hopes to convince "our American friends" who have "greater production capacity" to contribute to the effort. 
UK Prime Minister Boris Johnson is expected to pledge to donate most of the country's surplus vaccine supply to poorer nations in the G7 meeting, the British public broadcaster, the BBC, reported earlier on Friday.
The UK, which has the population of about 66 million, has ordered more than 400 million doses of various vaccines, so a surplus of doses will be available after all adults are vaccinated.
1 hr 12 min ago
More than 20 million years of life lost to Covid-19, study suggests
From Bioreports's Livvy Doherty in London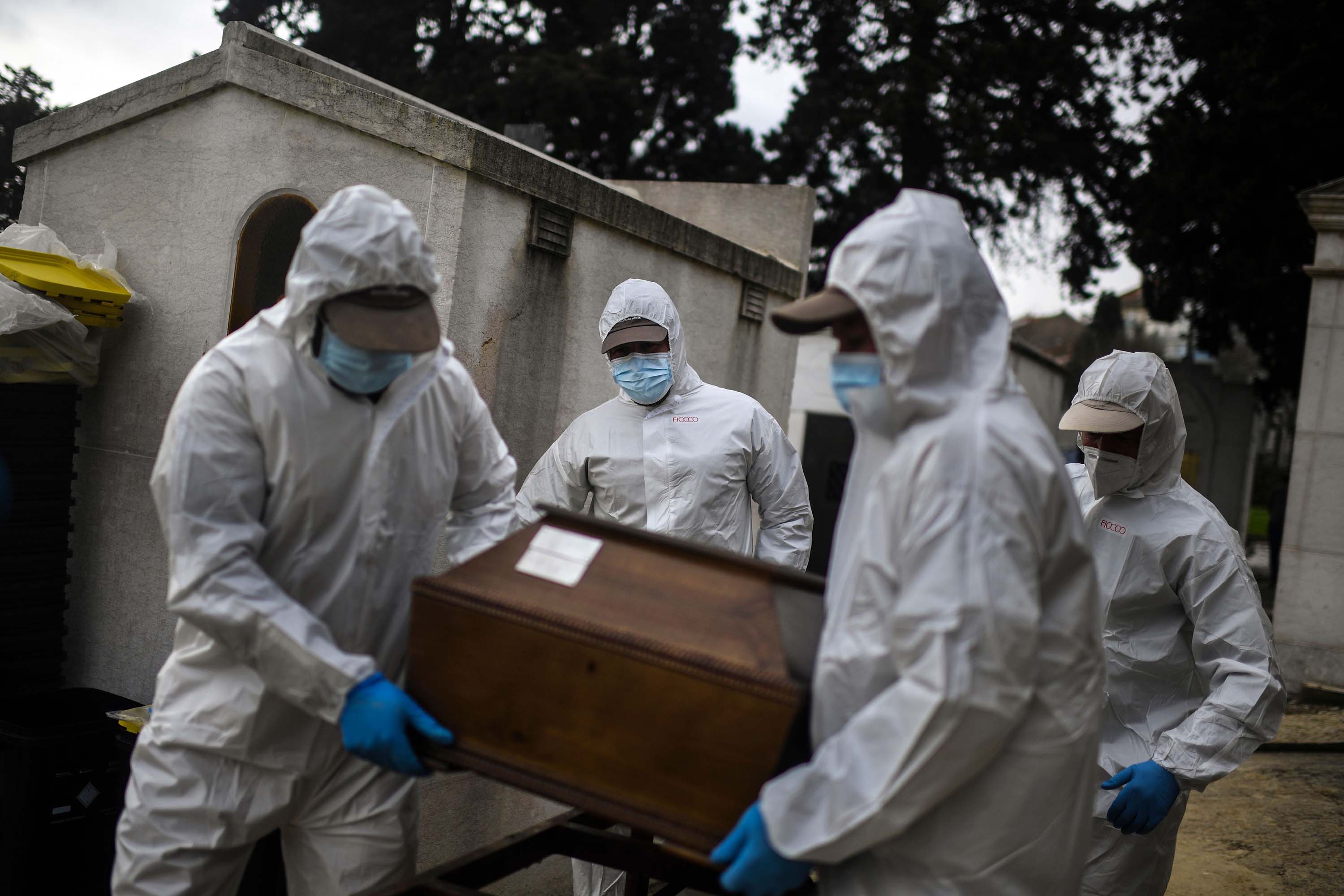 20.5 million years of life have been lost to Covid-19 globally, according to a new study looking at the mortality impact of the virus.
Researchers analyzed 1.2 million deaths from Covid-19 across 81 countries, looking not only at the number of dead, but how premature those deaths were. 
They found that on average:
the virus took 16 years from each fatality
in heavily affected countries years of lost life were on average 2-9 times the average of seasonal influenza
men lost 45% more years than women
three quarters of years of life lost came from those below the age of 75, with almost a third from deaths below 55
The study, published in the scientific journal Nature, says that analyzing years of life lost is "crucial in that it assesses how much life has been cut short for populations affected by the disease."
The researchers also note that the results "confirm the large mortality impact of COVID-19 among the elderly" and call for heightened awareness in devising policies that protect vulnerable demographics losing the largest number of life-years.
1 hr 14 min ago
Hong Kong receives 1 million doses of Covid-19 Sinovac vaccines
From Bioreports's Eric Cheung in Hong Kong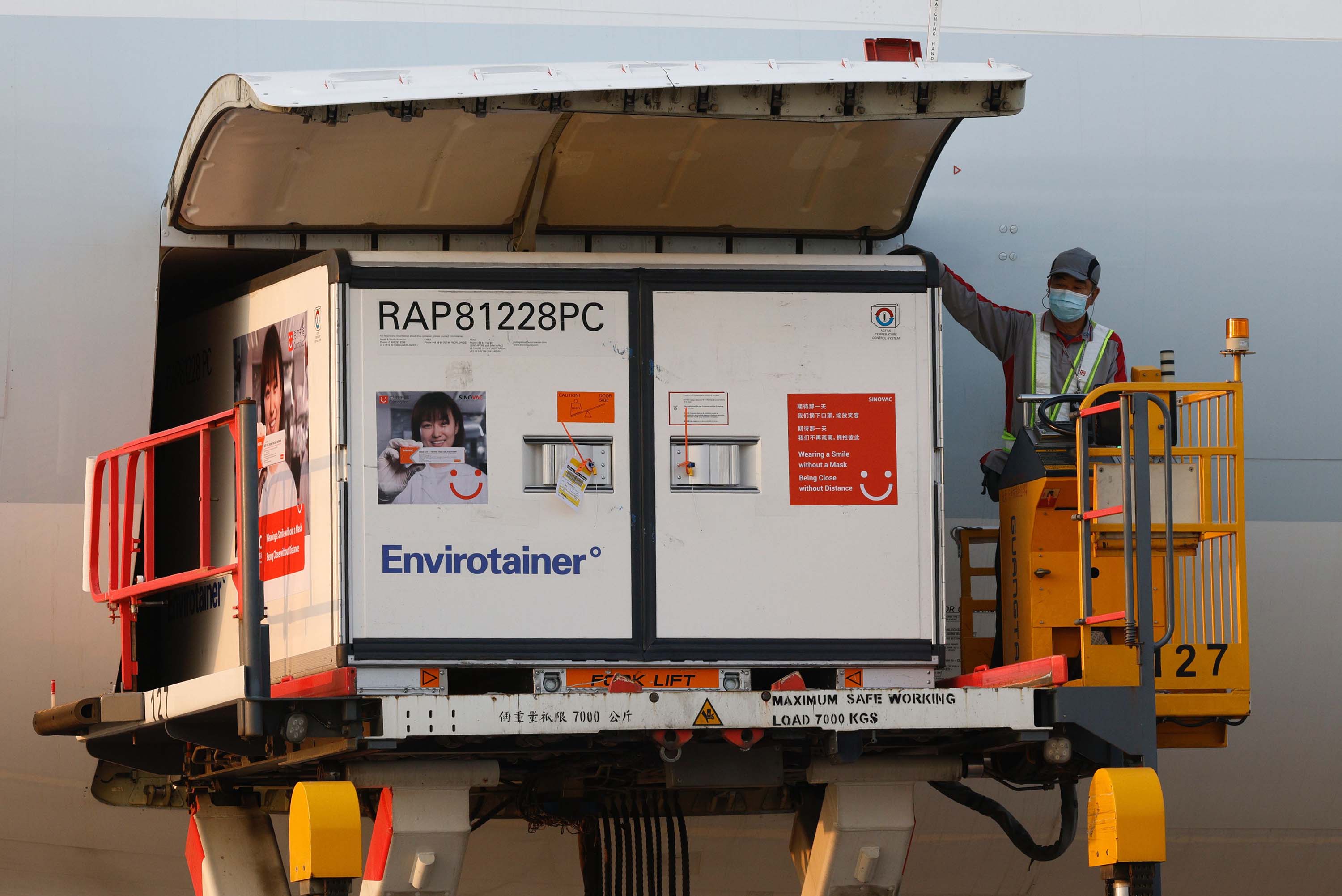 Hong Kong received its first batch of Sinovac Covid-19 vaccine from Beijing on Friday, according to a government live feed showing a Cathay Pacific plane with one million doses on board arriving at Hong Kong International Airport.
"On behalf of the Hong Kong Special Administrative Region government, I want to thank the Central People's Government for their full support," said Hong Kong's Secretary for Civil Service Patrick Nip.
Hong Kong authorities announced Thursday that priority groups will start to be vaccinated on February 26.
In total, the city of more than seven million people has recorded 10,820 Covid infections and 197 deaths, according to the tally by Johns Hopkins University. 
Hong Kong is relaxing social distancing restrictions after reporting its lowest daily number of new Covid-19 cases since late November earlier in the week.
Another one million doses of the Pfizer/BioNTech vaccine, manufactured in Germany, are also expected to arrive in Hong Kong by the end of February, authorities said.
In January, Sinovac was revealed to have an efficacy rate of just 50.38% in late-stage trials in Brazil — significantly lower than earlier results showed. That rate only barely crosses the 50% efficacy threshold as set by the World Health Organization, and far lower than the 78% previously announced to much fanfare in China earlier this month.
1 hr 34 min ago
Russian MFA says it offered coronavirus vaccine to all foreign embassies 
From Bioreports's Mary Ilyushina in Moscow
Russia's Foreign Ministry has invited all diplomatic missions and representatives of international organizations accredited in the country to get inoculated with a Russian-made vaccine. 
"The practice of inviting the diplomatic corps to get vaccinated against coronavirus is common in many countries… The Russian Foreign Ministry is no exception," the ministry's spokesperson, Maria Zakharova, said in a briefing Thursday.
Zakharova added that the ministry is also working on delivering the vaccine to Russian diplomats and their families residing abroad.
"This work is based on the principles of voluntary [inoculation] and staff retaining the right to choose an alternative vaccine," Zakharova said. "The possibility of delivering a Russian vaccine to a particular country or using a locally-produced shot as well as the availability of the necessary medical infrastructure in Russian foreign institutions are all taken into account." 
Several foreign diplomats already accepted the offer and were inoculated with Sputnik V vaccine. Among them were diplomats from Belarus, Mongolia, Afghanistan, and Spain, state-run news agency RIA Novosti reported Friday, citing diplomatic missions.
In late December, the Russian Foreign Ministry offered US Ambassador John Sullivan a shot of Sputnik V vaccine in a tongue-in-cheek tweet after he posted his Christmas wish-list that mentioned a Covid-19 vaccine.
The spokesperson for the US Embassy in Moscow, Rebecca Ross, tweeted back saying that the Ambassador thanked the Russian Foreign Ministry "for its offer of a vaccine, however would not want to take a Sputnik V dose meant for a Russian citizen."
"We're grateful that two US vaccines are now approved, and already helping people fight Covid-19 across the EU, UK, Latin America, and US," Ross said.
1 hr 57 min ago
UK Covid-19 variant detected in every 5th new infection in Germany
From Bioreports's Nadine Schmidt in Berlin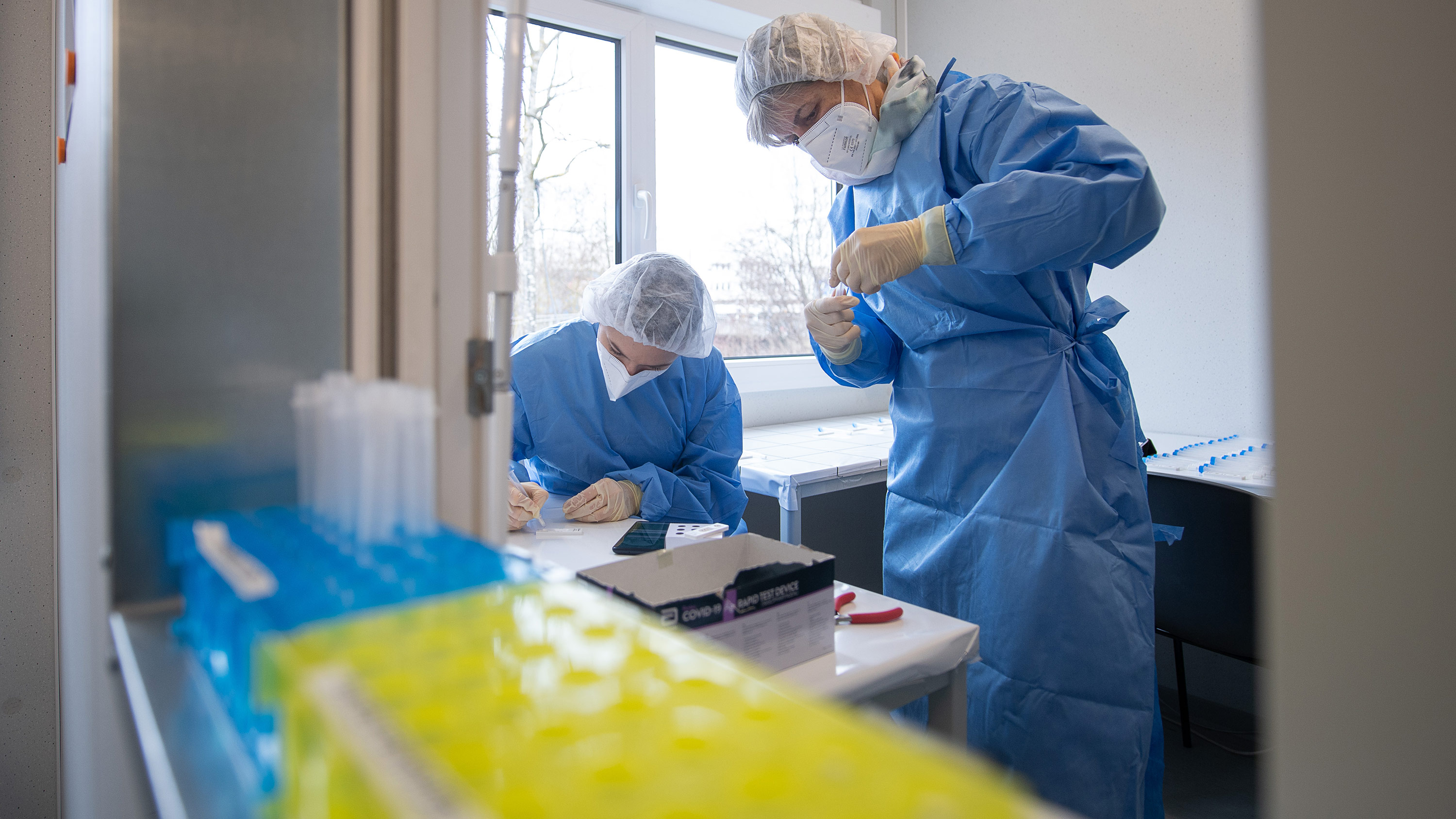 Germany is experiencing "a rise of worrying coronavirus mutations", despite an overall decrease in new cases and an increase in people getting vaccinated, the German health minister said Friday.  
The coronavirus variant first detected in the UK is now being found in every fifth person testing positive in Germany, the minister, Jens Spahn, said in a press conference.
"There are rising demands to end the lockdown and this is possible — but we need to be careful in order not to jeopardize our achievements," Spahn added.
Germany's public health authority, the Robert Koch Institute (RKI), warned that the country's infection numbers appear to be stagnating at a level that is still too high, threatening a current downward trend in positive cases.
On Friday, Germany recorded 9,113 new cases, a drop of 747 cases compared to a week ago. Coronavirus deaths stood at 508 within the last 24 hours, 48 less than last Friday. The latest data from RKI indicates that the number of new infections per 100,000 residents has fallen to 57.
Chancellor Angela Merkel previously said authorities would only lift the restrictions if the seven-day incidence rate fell to 35 cases per 100,000 infections. 
As of Friday, 5 million people in Germany have received the first shot of the coronavirus vaccine, while 3 million have received both doses, according to Spahn. By the end of next week 10 million coronavirus vaccines will have been distributed across Germany.
2 hr 24 min ago
One dose of Pfizer vaccine reduces symptomatic Covid-19 by 85% after a month, study shows
From Bioreports Health's Maggie Fox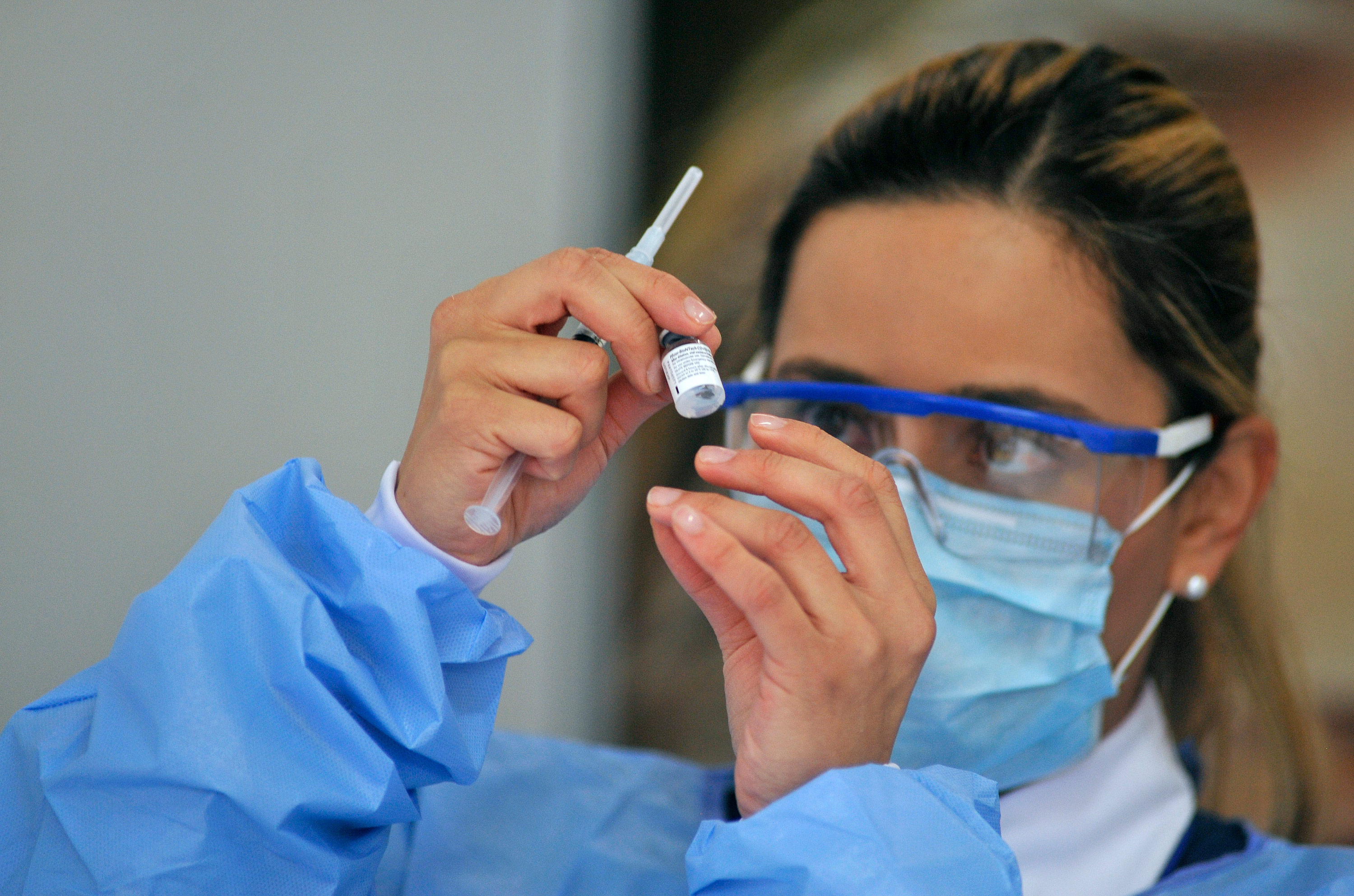 A new study provides more evidence that a single dose of coronavirus vaccine might be enough to significantly reduce disease.
People who got a single dose of Pfizer/BioNTech coronavirus vaccine were increasingly less likely to develop Covid-19 symptoms as time passed — and they were 85% less likely to get sick two to four weeks after getting their first shot, Israeli researchers report.
The findings, released as a letter to the Lancet medical journal, are likely to bolster calls for governments to move to a single-dose regimen to stretch out vaccine supply until manufacturers can make more. 
How the study was conducted? The team at Israel's Sheba Medical Center looked at the medical records of roughly 9,000 health care workers, more than 7,000 of whom were vaccinated starting in December.
"By Jan 24, 2021, of the 9,109 eligible staff, 7,214 (79%) had received a first dose and 6,037 (66%) had received the second dose," they wrote.
More than 90% got their second dose on time, by 21 or 22 days after the first dose.
The team looked at the rate of infections during those crucial three weeks. They found a 47% reduction in symptomatic coronavirus infections among the health care workers during the first two weeks after the first shot and an 85% reduction over the following two weeks.
"Of the 170 healthcare workers who became infected, 89 (52%) were unvaccinated, 78 (46%) tested positive after the first dose, and three (2%) tested positive after the second dose," they wrote.
It's possible that asymptomatic cases were missed. The team only counted people who had symptoms and tested positive for coronavirus.
3 hr 58 min ago
A drop in Covid-19 cases can be deceptive, official warns
From Bioreports's Madeline Holcombe
Although the rise of Covid-19 variants in the United States could spell trouble, pharmaceutical companies and scientists are confident vaccines will evolve with them, senior White House adviser Andy Slavitt told Bioreports.
"We are used to mutations with the flu. This is a much higher percentage of success than the flu," Slavitt, who is responsible for the US coronavirus response, told Bioreports's Chris Cuomo on Thursday.
The US has witnessed a 26% decline in new cases from this time last week, continuing the trend of the steepest decline in new cases since the start of the pandemic, according to data from Johns Hopkins University.
But variants, many of which appear to be more transmissible, have been spreading, with more than 1,500 cases reported in the US, according to the Centers for Disease Control and Prevention.
Vaccination delays caused by harsh winter weather gripping much of the US also mean many people will have to work "double time" to get back on track, according to Dr. Anthony Fauci, the nation's top infectious disease expert
"It's been slowed down; in some places going to a grinding halt," Fauci said in an interview with MSNBC on Thursday.
Many states hit early in the storms, particularly Texas, had to cancel vaccination appointments due to dangerous road conditions and power outages.
Read the full article here: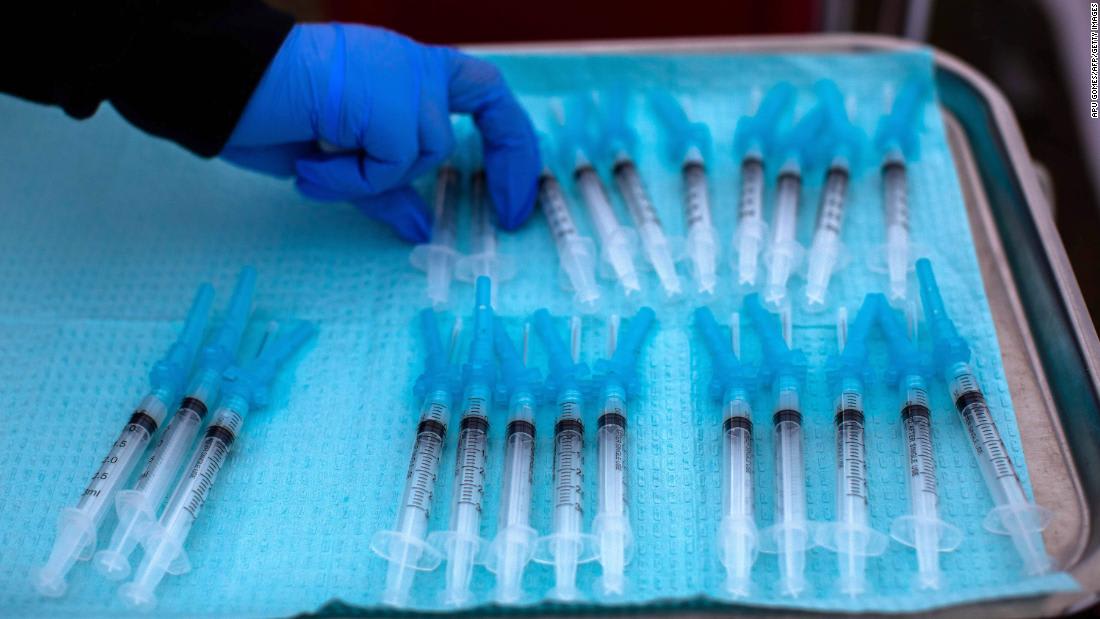 4 hr 47 min ago
US reports more than 69,000 new Covid cases on Thursday
From Bioreports's Alta Spells
The United States reported 69,230 new cases of Covid-19 and 2,542 additional related deaths on Thursday, according to Johns Hopkins University's tally.
This brings the national total in the US to 27,896,042 confirmed cases and 493,082 coronavirus related deaths.  
At least 73,377,450 vaccine doses have been distributed and 57,737,767 doses have been administered, according to the US Centers for Disease Control and Prevention.
5 hr 27 min ago
Indian state announces fresh Covid-19 restrictions as cases surge
From Bioreports's Swati Gupta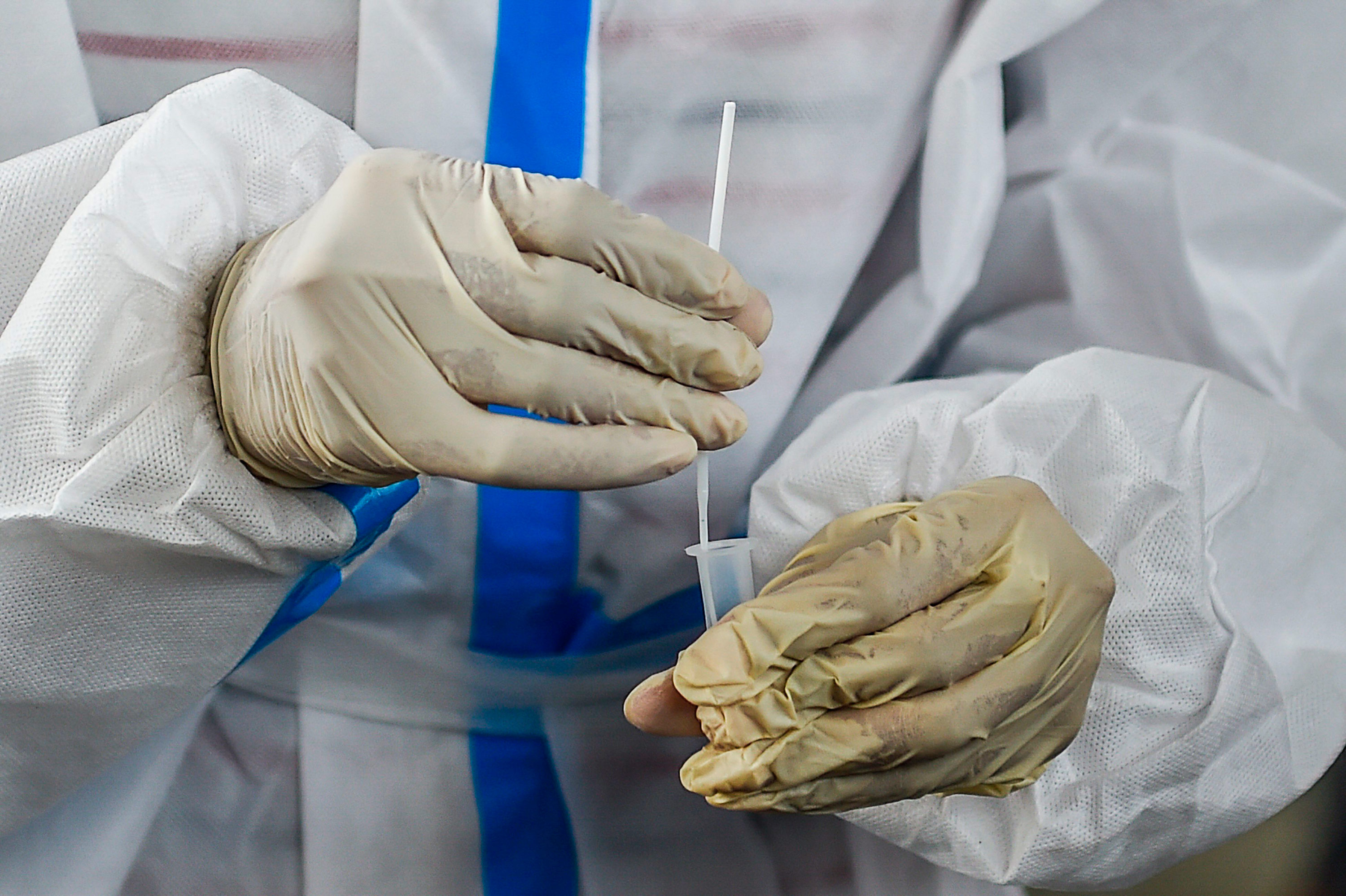 India's western state of Maharashtra has announced fresh restrictions to combat a surge in Covid-19 cases across the state, especially in Mumbai, the local administration said Thursday.
Local officials in Mumbai have begun stamping hands of those who are meant to be quarantining at home, and the government says they will be enforcing all Covid-19 restrictions for public gatherings and mask mandates.
Any violation of the fresh restrictions "will lead to action against organizers and concerned management," the local government warned.
Among other measures announced, Mumbai will mandate a compulsory seven-day institutional quarantine for all passengers arriving from Brazil.
Three other districts have been directed by the state government to take immediate preventive measures as the number of cases have also surged in these areas.
The state of Maharashtra recorded more than 5,400 cases within 24-hours Thursday, including 38 deaths, according to the state government.