225 views
by 
Joseph Omotayo

The 50-year-old Nigerian man, Dahiru Buba who trekked from Gombe to Abuja to support the election of President Muhammadu Buhari has spoken about the treatment he gets from people because of the solidarity walk.
In an interview with The Bioreports News, he said that he does not have any job to take care of his two wives and seven children.
He said that he loves the president because he is "a man of integrity and a lover of the masses". He added that the idea to walk for him came out of the joy that followed the All Progressives Congress winning the presidential election in 2015.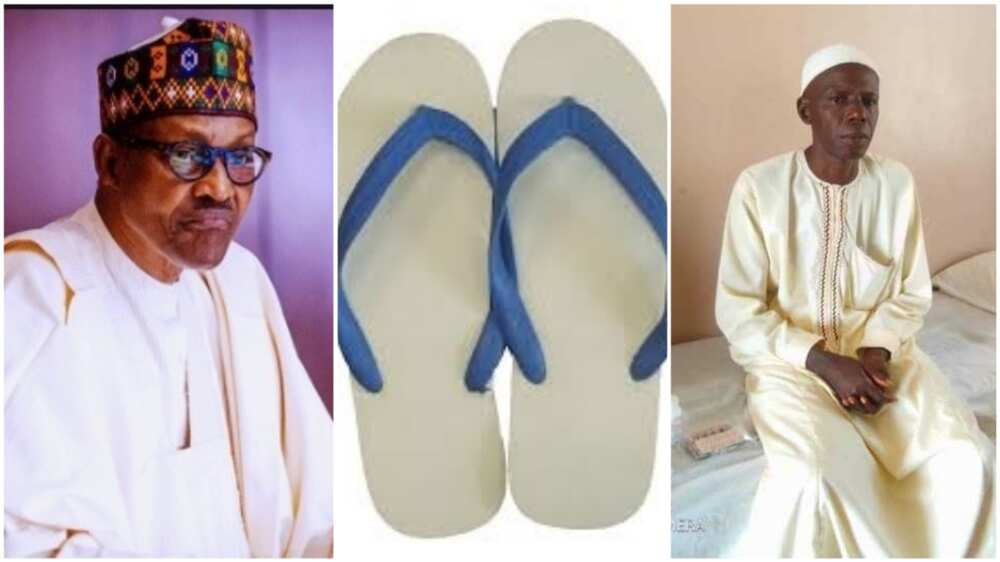 A collage of the man and an illustrative photo of slippers.
Photo sources: Channels TV, Bioreports Loaded
.
The 50-year-old said that he wanted to do something unusual to celebrate a man who finally won the seat he had tried many times in the past to clinch.
In the interview, he revealed that the walk took him about 15 days and that he used three slippers during the trip.
He said that despite the fact that he wanted much more from what he did, he only got N10,000 transport fare back to his village in Abuja.
The man added that he lived with the illness caused by the trekking for three more than three years before the government of Gombe state stepped in.
On his economic wellness, he said that he has become poorer than ever since Buhari became president, adding that he, however, did not regret his loyalty.
PAY ATTENTION: Download our mobile app to enjoy the latest news updates
Meanwhile, Bioreports earlier reported that the man was facing health challenges as he battled with serious limb pains.
It was gathered that he appealed to his state governor and the leadership of the APC to come to his rescue. Then, he said the adventure got him nothing but an APC certificate.
NWC dissolution: I remain loyal to President Buhari – Oshiomhole | Bioreports