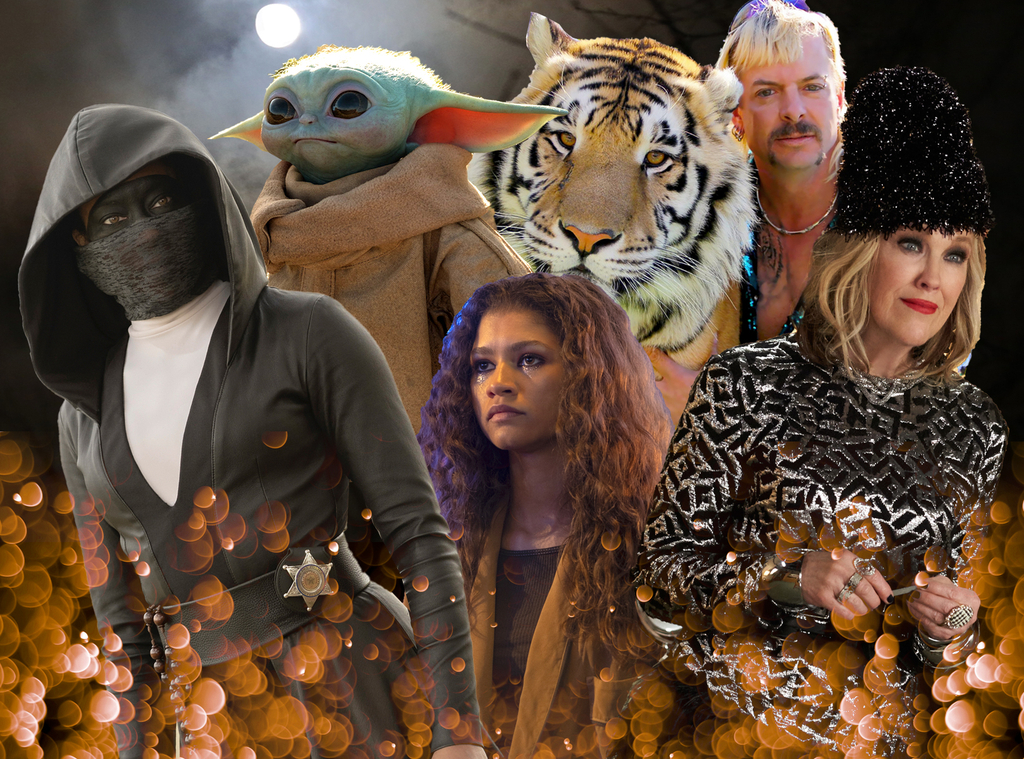 E! Illustration
We love these products, and we hope you do too. E! has affiliate relationships, so we may get a small share of the revenue from your purchases. Items are sold by the retailer, not E!. 
The 2020 Emmys are officially upon us, but Halloween is following hot on its heels. If you still have the itch to dress up and you're looking for inspiration, we recommend creating a costume inspired by one of these iconic Emmy nominated shows!
Even though we won't be trick or treating (or pub crawling), that doesn't mean you can't pop on a wig in honor of Moira Rose from Schitt's Creek, and have a sip of fruit wine. Or slip into something a little more comfortable, a la Rue from Euphoria. But if you really want to go all out, you can get a custom Sister Knight costume to pay homage to Watchmen… and kick some ass in your socially-distant costume competition. Some of these styles can work for your everyday when Halloween is over, too.
We hunted out some of the best options to help you dress up in honor of some of your favorites who may grace the stage come this weekend's awards show. Shop our picks below, and get ready for Halloween!
Amazon
Midge Maisel from The Marvelous Mrs. Maisel
Harris Wolf London Belted Pressed-Wool Coat
Midge always looks so put together, from top to toe. We think this wool coat must've been created in her honor, made in Italy from mid-weight pressed wool with a relaxed fit. It also features a shawl lapel, a double-layered wrap front and a matching belt to cinch it all in. It's the perfect thing to wear over your wiggle dress. Speaking of…
Everlane The Day Heel
Midge always goes for a sensible shoe, and it doesn't get much more sensible than Everlane's Day Heel. Made of 100% Italian leather, it sports a walkable two-inch block heel with an elasticized back for extra comfort. Fair warning that some sizes fit narrower or smaller than others, so make sure you double check the description before you buy your usual size.
Unique Vintage 1950s Style Black Braided Straw Pillbox Hat
And of course you should top it all off with a proper pillbox hat. This one is made of a braided straw with grossgrain ribbon on the inside to help keep you comfortable. Plus, it also has an elastic cord to help it stay put when you're storming the stage, making your audience laugh their guts out. Or, you know, cutting a rug at your bubble Halloween party.
HBO
Sister Night/Angela Abar from Watchmen
Bermanwin Custom Made Watchmen Angela Abar/Sister Night Costume
We all know Detective Angela Abar is a badass, but when she becomes Sister Knight, she takes it to a whole other level. Channel that same next-level badassery in your very own replica of her scene-stealing outfit, featuring everything you need to cosplay effectively, from her hooded jacket to her ever-present rosary. You can also arrange to have the outfit custom made to your exacting specifications.
Disney+
The Mandalorian from (duh) The Mandalorian
Mandalorian Beskar Armor Costume for Men
We're willing to bet genuine Beskar Armor isn't exactly the most comfortable thing to wear, which is why this officially-licensed Star Wars costume is a decent alternative to the real thing (don't tell us Beskar isn't real, we won't hear it). The full-body jumpsuit has printed armor that end in boot covers that drop to the ankles, so your choice of footwear completes the look. Just make sure nobody sees you at the snack table with your helmet off…
The Child Plush
Is The Mandalorian truly The Mandalorian without The Child? We say no. So make sure you have one of your own to protect with your life. This one is soft and cuddly, wrapped in a faux suede coat sporting fuzzy trim, wearing embroidered features and squeezable fill. Just make sure you let him play with the knob from your shifter so you can keep him out of trouble while you're flying through space.
PopTV
Moira Rose from Schitt's Creek
Feather / Net Kentucky Derby Hat
Gossip may be the devil's telephone, but Moira Rose is obviously the patron saint of style. The only thing better than her wig game is her hat game, so we highly recommend starting with some superior head gear that says "I am the star of Sunrise Bay." With feathers, netting and florals amid mesh and other insanity, this fascinator is clearly up to the task.
Party City Pink Bob Wig
Speaking of wigs… much like how The Mandalorian isn't anything without The Child, we're pretty sure Moira would wither and die without her wigs. She has so many memorable cuts to choose from, but we're partial to her pink bob. This wig is a decent facsimile of our fave, made of synthetic fiber and sporting some serious Bettie Page bangs. Just make sure you buy a wig cap to wear underneath.
Collectif Black Lura Pencil Dress
…this form-fitting pencil dress. True, it's a 50s-friendly wiggle-style frock, but it's also totally bewitching, which is right up Moira's alley. It hugs you in all the right places, featuring a Queen Anne neckline, slender long sleeves, and a seamed waist. It drops past the knees, but offers a back vent so it's easier for you to walk around. Grab it in UK sizes six to 22.
Nine West Quizme Platform Boots
We're pretty sure Moira isn't caught dead in anything less than a five-inch heel, but these four-inch platform boots will have to do. With a foot-flattering almond-toed design and a side zipper for easy on/off action, you'll definitely be the belle of the ball… just make sure you don't wash your Christmas pills down with fruit wine, or you may have some balance issues.
Andrew Eccles/NBC
Janet from The Good Place
Unique Vintage 1950s Eggplant High Waisted Amma Suspender Swing Skirt
Hi there! We're pretty sure Janet's instantly identifiable purple uniform makes her perfect costuming inspiration. While this one isn't an exact match, we're pretty sure it still works, even if you wind up marbled. This fit and flare swing skirt comes in a stretch blend with adjustable suspender straps, plus two faux pockets in case you need somewhere to stash all the pennies you barfed up. It also comes in a range of sizes from XS to 5X.
Unique Vintage White & Black Polka Dot Crepe Neck Tie Gwen Blouse
And if you really want to look like our girl (not a girl), you'll definitely need a blouse with a bow. We love this vintage-style version, with voluminous sleeves that come to a defined end at the wrist, thanks to buttons that cinch the extra-long cuff. It also comes in sizes XS to 5X, and it's a little bit sheer… but fret not, 'cause you're going to cover it up with…
Men's V Neck Vest
…this vest! True, it's a men's cut, but it comes in a variety of sizes. And if all else fails, you can always cinch it from the inside with office clips (that's a seamstress cheat for ya). It's made of polyester and cut in a tailored style, so it should cap off your Janet outfit perfectly. But if you prefer to dress up as Bad Janet, you're on your own.
Reebok Training Essentials Fleece Full Zip Hoodie
In general, we think Rue's style is basically what we've all been wearing throughout 2020 (sans glitter, of course). To craft your Rue-centric outfit, start with this hoodie made of cozy and warm fleece, with kangaroo pockets so you have somewhere to put your hands when you get fidgety. Just make sure you get it oversized so you look like you're swimming in it.
Old Navy Relaxed Vintage Crew-Neck Sweatshirt
It might be overkill to wear this tie-dye sweatshirt under a fleece hoodie, but hey: it might be cold by the time we hit Halloween, and you'll want to keep warm considering the rest of this costume. This crew-neck, raglan-sleeve terry sweatshirt sports a vintage cut for extra comfort, and for low-key don't care style. Plus, it helps to be comfy when you're processing the weight of your problems.
Nike One 7 Inch Biker Short
Remember these from Rue's early scene-stealing moments? Again, rocking the 2020 aesthetic in 2019 is such a trendsetting Zendaya thing to do, no? We totally stan. And we totally love these ultra smooth, seamless and stretchy bike shorts, with a mid-rise fit and hidden pockets. Yeah, they're sweat wicking, but does that matter when you're going to be cocooned in bed binge-watching reality TV on your MacBook? (We're talking about Rue, here… not, like, what we've all been doing since March.)
Netflix
Carole Baskin and Joe Exotic from The Tiger King
Claire's Spring Mix Flower Crown
Hey all you cool cats and kittens, you had to know the flower crown was going to make an appearance on this list! It's such a stand-out Carole look. It just screams "I'm totally innocent of murdering my previous husband," with faux flowers atop a vine band, all made of polyester.
Boohoo Plus Leopard Print Cap Sleeve Maxi Dress
While Carole does tend to favor a more billowy silhouette, we think you should embrace your wild side in this leopard-print body con number. It may not be the best thing to wear when you're riding your bike around your big cat sanctuary, but it'll work perfectly for your webcasts when you give updates on your pride.
Goorin Brothers Animal Farm Snap Back Trucker Hat
But if you're more of a Joe Exotic type, this trucker hat is a must. It's made of cotton canvas with mesh in the back so you have a way to keep your cool when you're bitching about Carole Baskin. Plus, it has a curved brim and adjustable snapback closure so you don't get your mullet caught when you're trying to pull it off your head. (Mullet optional.)
Asos Design relaxed fit satin shirt in fluro animal
Believe it or not, this isn't an image ripped from the dating profile of one of Joe Exotic's future ex-husbands. But he is wearing the ultimate Joe Exotic-style shirt, with an all-over animal print that definitely sings out, "I Saw a Tiger." It has a revere collar, short sleeves and a button pocket, with a loose fit and a silky smooth feel.