255 views
by 
Bioreports
Joseph Omotayo

– Most people grow up seeing the hardships faced by our parents in raising us and wish we could give back
– One man, identified as Mvuyo Makhasi, has managed to do exactly that by spoiling his father with a huge gift
– The young man replaced dad's old vehicle with a new ride and people cannot help but feel emotional
PAY ATTENTION: Click "See First" under the "Following" tab to see Bioreports News on your Facebook News Feed
Mvuyo Makhasi has gone viral after sharing his story about his father's hard work despite not having the best ride.
The young man explained that his father had driven his iskoroko (old vehicle) everywhere after him, saying that:
"My dad has been driving iskoroko all my life. He drove me to prize-giving evenings at school, debate tournaments, even my registration at Wits."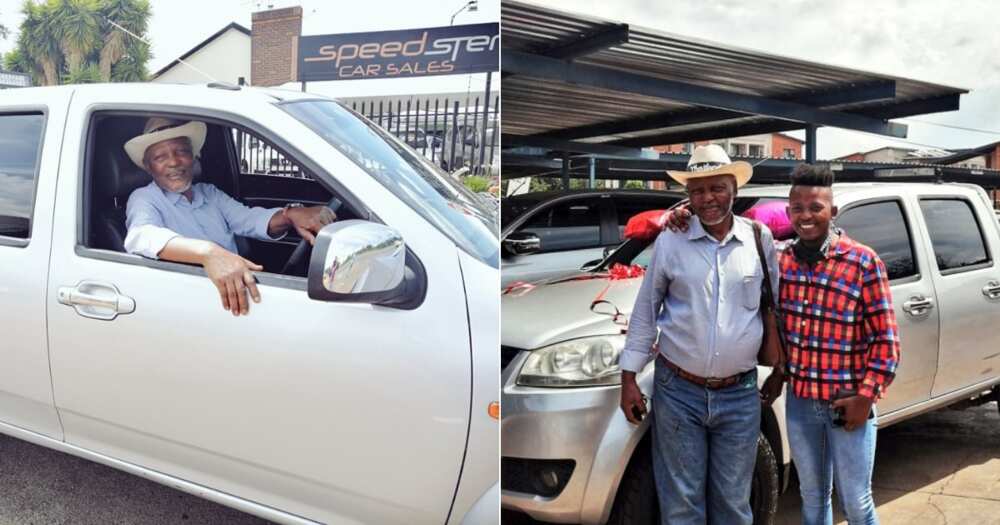 Mvuyo Makhasi says he feels blessed after being able to replace his dad's ride. Image: Twitter/ @mvuyo_makhasi
.
But this has changed due to Makhasi's hard work and, in a small way, through his fathers as well.
Makhasi revealed that he had managed to give back, gifting his dad with a new car and feeling blessed to be able to do so:
"Today, I gifted him with this car and I feel so blessed to be able to make this part of his life as blissful as possible."
Mzansi couldn't help but aspire to do similar things for their parents in the hopefully not so distant future.
The post has garnered thousands of reactions from peeps who adored this emotional and iconic moment.
Take a look at just a few reactions to this post below:
@King44951503 said
"It's good to see children having good healthy relationships with their parents particularly Father's and sons."
@hermanleshabane said:
"Well Done my Guy, but the problem will be filling it with petrol."
@dabrada4 said:
"Then they will ask "why is he successful " … one thing I have learned in this life is that if you look after your parents life just becomes bliss… well-done man!"
@espebass said:
"Good gesture from the heart and blessings coming your way. But a GWM of all cars eish?"
@oupamonene3 said:
"Proud of what you have done for your Dad…left me teary. God bless you immeasurably even beyond the blessing that has been and continues to be your father hugging."
@TomSibanda4 said:
"Oh my… thank you Mvuyo for what you have done for your dad. Best tweet I have seen in a longtime. Kuyancomeka impela."
PAY ATTENTION: Download our mobile app to enjoy the latest news update
Meanwhile, Bioreports earlier reported that a Nigerian dermatologist and biologist, Sandra Desmond, put bubbling joy on her mother's face as she beamed with big smiles.
In one of the posts she shared on her Instagram page, it showed Sandra posing with her mom and a car she bought for her.
To show how her mom received the car, there was a video post on her page that captured how the vehicle was driven into her family's compound.
Unemployed graduates are too many in my ghetto | Bioreports