1 hr 41 min ago
Delta flight returns to gate after travelers refuse to wear masks
From Bioreports's Jennifer Selva
A Delta flight was forced to return to the gate when two of their customers wouldn't wear masks, according to Delta Air Lines spokesperson Emma Protis.
Protis told Bioreports in an email that Flight 1227 on July 23 was on its way from Detroit to Atlanta when they were forced to turn around.
Delta released the following statement to Bioreports:
Flight 1227 from Detroit to Atlanta returned to the gate following two customers who were non-compliant with crew instructions. After a short delay, the aircraft departed to Atlanta."
The two passengers were removed from the plane, Protis said.
According to Delta's website, "Delta customers and employees are required to wear a face mask, or appropriate cloth face covering over their nose and mouth throughout their travel, aligning with best practice guidelines from the CDC."
2 hr 58 min ago
South Africa coronavirus cases surpass 500,000
From Bioreports's Jennifer Hauser
South Africa's National Department of Health reported over 10,000 new Covid-19 cases Saturday, bringing the total number of infections recorded in the country to more than 500,000. 
A total of 503,290 cases have been confirmed in the country, including more than 8,100 deaths, according to the Health Department.
South Africa is the hardest hit country on the continent. It has recorded the fifth highest number of cases in the world, according to Johns Hopkins University.
1 min ago
Thousands gather in Berlin to protest against Covid-19 restrictions
From Bioreports's Fred Pleitgen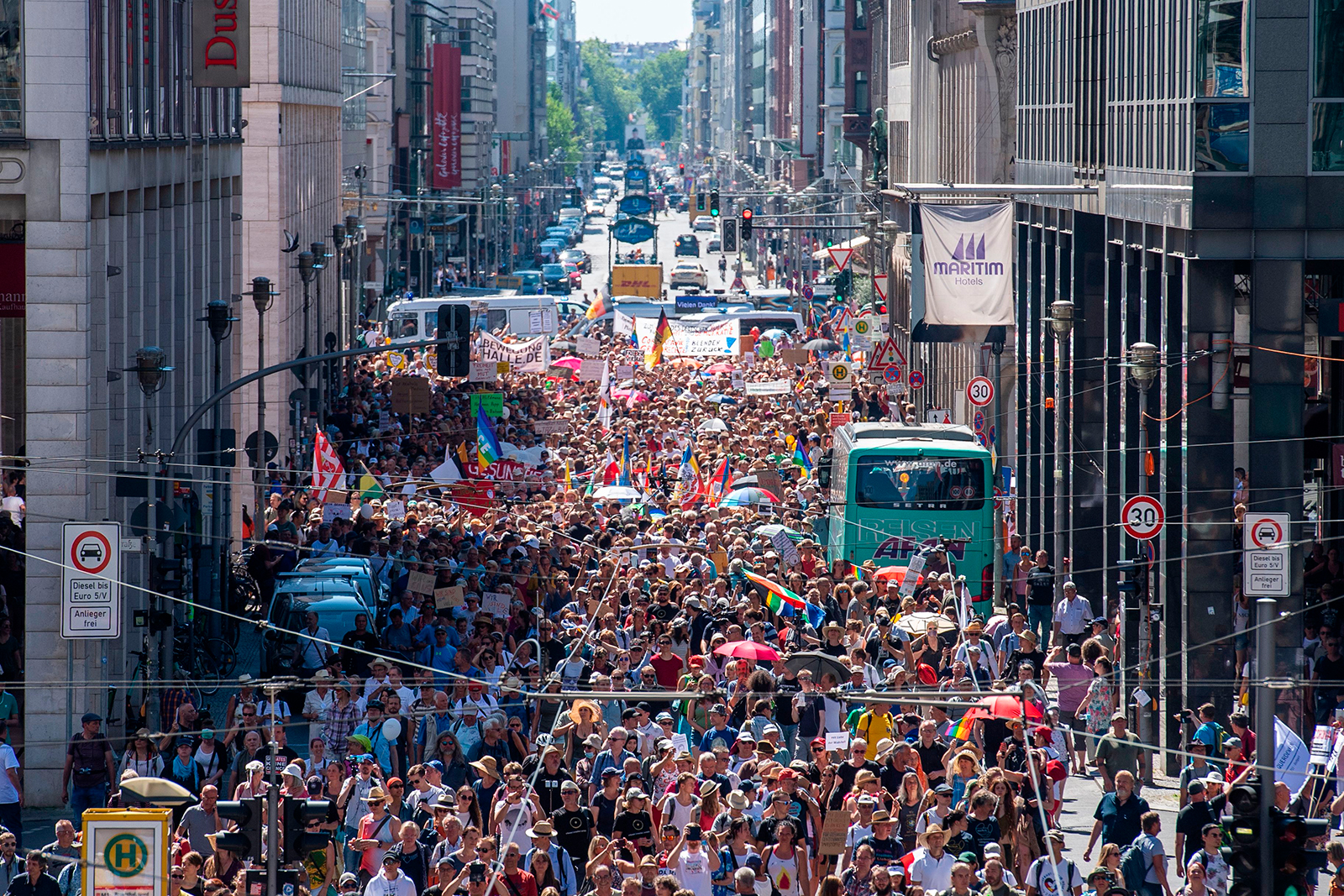 A large crowd of far-right groups gathered for a "sit-in" at Berlin's iconic Brandenburg Gate on Saturday to protest against the German government's coronavirus restrictions.
A march earlier Saturday that was criticized by police for not adhering to rules on social distancing and face masks was halted by organizers.
The march, which was named by organizers as "Day of Freedom — The End of the Pandemic," included anti-vaccine groups and some far-right and neo-Nazi organizations. On livestreams of the event, some protesters could be heard yelling, "We are the second wave."
Current coronavirus guidelines in Germany stipulate that people must maintain a distance of 1.5 meters, or about 5 feet. Where that is not possible, face masks must be worn. Berlin police said on Twitter that most of the protesters were not adhering to social distancing rules or wearing masks.
"Our colleagues are using loud speakers to urge the adherence to the rules. We are also documenting non-compliance for possible later prosecution," Berlin police tweeted, adding that a criminal complaint was filed against one of the march's organizers for not adhering to hygiene rules.
Police warned the roughly 17,000 protesters who participated in the march they would only be allowed to participate in the demonstration if they wore face coverings and maintained social distance.
A livestream from the protest showed almost no one wearing a face mask, although the master of ceremonies told the crowd from the stage to maintain physical distance so as not to give the authorities "a pretext" for breaking up the event.
Read the full story: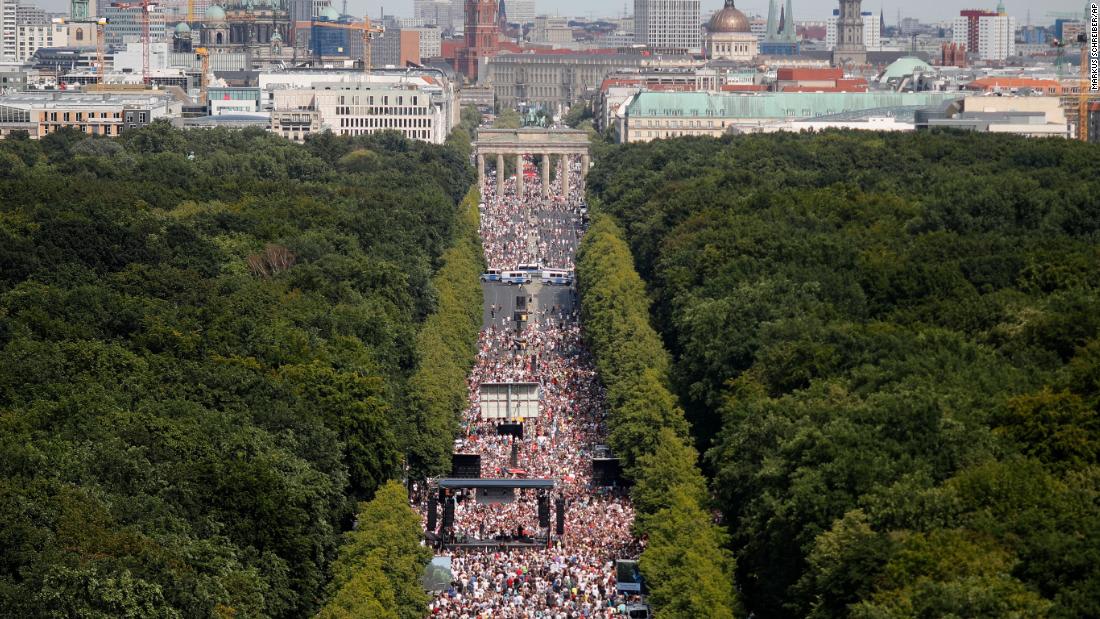 1 hr 15 min ago
England may need to choose between pubs or schools, health expert says
From Bioreports's Arnaud Siad in London
The United Kingdom may need to choose between keeping pubs open or allowing schools to reopen it if it wants to keep coronavirus infection rates down, a key member of the group advising the government on Covid-19 response told British media.
"Closing some of the other networks, some of the other activities may well be required to enable us to open schools. It might come down to a question of which do you trade off against each other and then that's a matter of prioritizing. Do we think pubs are more important than schools?" Professor Graham Medley, who chairs the Scientific Advisory Group for Emergencies (SAGE) sub-group on pandemic modeling, told BBC radio Saturday.
Medley's comments were made a day after crowds were seen in bars and pubs in parts of northern England despite a spike in cases and the reintroduction of some government restrictions in several areas.
Pubs were allowed to reopen across the UK on July 4.
"I think we're in a situation whereby most people think that opening schools is a priority for the health and wellbeing of children," Medley said.
On Friday: Prime Minister Boris Johnson said England would "squeeze the brake pedal" on the next phase of reopening in a bid to slow down the rising rates of coronavirus infection.
New restrictions were announced for northern England late Thursday in an effort "to stop the spread of Covid-19." Across the country, certain venues that were scheduled to reopen Saturday — including , casinos, bowling allies, skating rinks and "the remaining close contact services — will remain shuttered until at least August 15.