1 min ago
CNN's Jeff Zeleny answers your questions about the G7 summit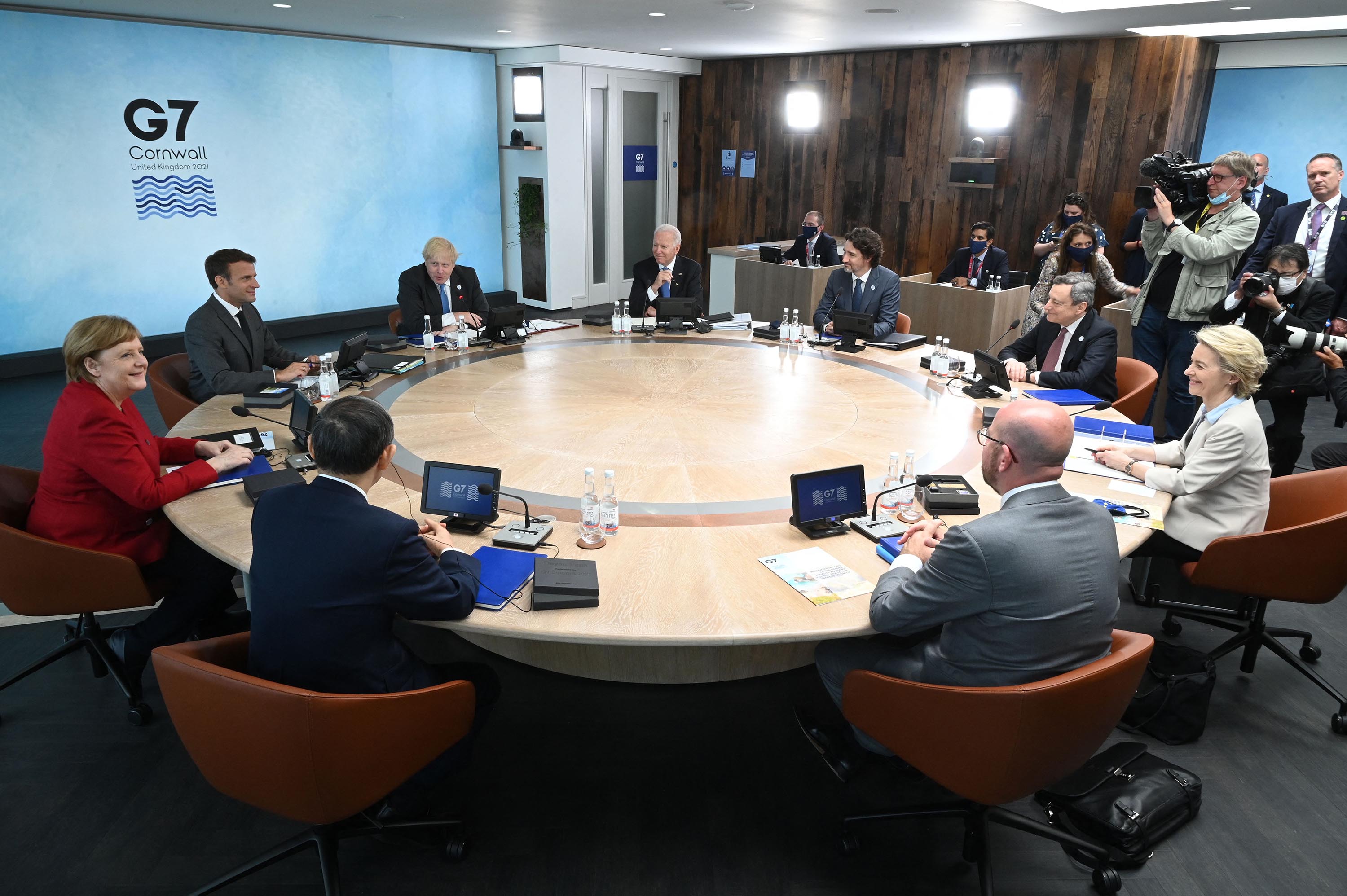 Leaders of the world's major economies have arrived in Carbis Bay, England, for the start of an in-person G7 summit.
It's the first time US President Biden is meeting his counterparts since being sworn in earlier this year. The global tax rate and coronavirus aid and recovery, as well as climate change and cybersecurity are set to be big topics of discussion.
CNN's chief national affairs correspondent Jeff Zeleny answered viewers' questions live from England. Watch:
12 min ago
At least 12 UK police officers self-isolating after officer supporting G7 tests positive for Covid-19
From CNN's James Frater in England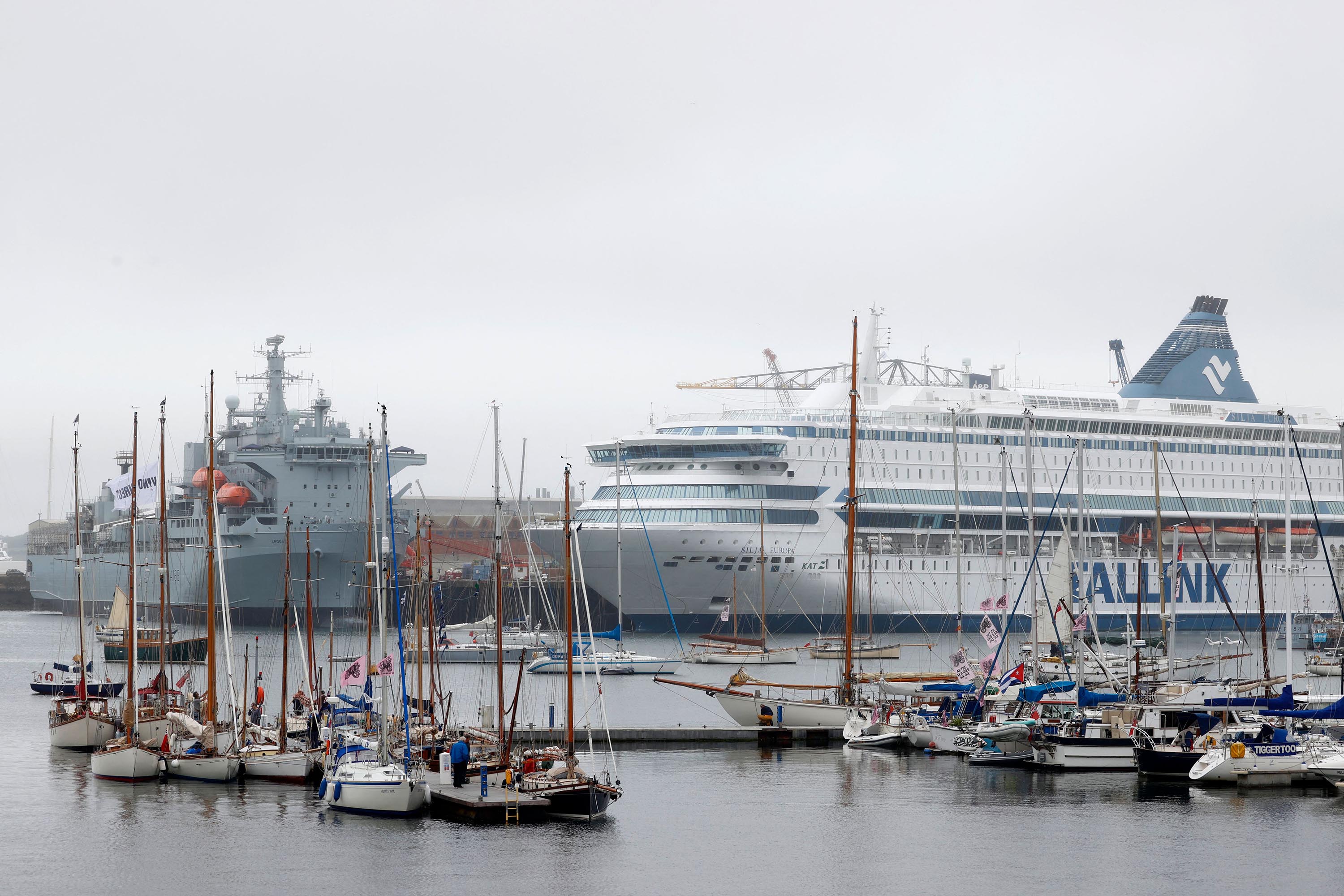 At least 12 UK police officers supporting policing efforts at the G7 Summit in Cornwall, England, are now self-isolating after one police officer tested positive for coronavirus on Friday, Devon and Cornwall Police confirmed Friday in a statement. 
"As part of our testing regime, during the early hours of 11 June we have identified one officer who is currently supporting G7 policing and accommodated on the ferry, has given a positive lateral flow test for COVID-19," the police statement said. 
According to Devon and Cornwall Police, the officer was being accommodated on the MS Silja Europa ferry, which is housing some 1,000 police officers and members of staff over the course of the G7 Summit. 
"The officer, plus those who have come into close contact, are currently self-isolating at another designated location," the statement from Devon and Cornwall Police said.
"All who have come into close contact or are in the bubble of those who tested positive are also currently self-isolating which equates to 12 officers in total," the statement added.  
Devon and Cornwall Police have affirmed that they continue to follow the advice of Public Health England, adding that all those who receive a positive lateral flow test for coronavirus are then required to undertake a PCR test.
24 min ago
French President Macron calls for "concrete commitments" from G7 leaders after roundtable talks
From CNN's Nada Bashir
French President Emmanuel Macron has called on G7 leaders to make "concrete commitments" to tackle global challenges, adding that this year's summit in Cornwall, England, "must be one of action."
"We have a responsibility to set clear goals and make concrete commitments to meet the challenges of our time," Macron said in a tweet on Friday following a roundtable discussion with G7 leaders. 
"I am glad to see you again, dear partners and friends. Let's get to work, together," he added. 
Earlier on Friday, Macron shared a photo with other European leaders at the opening of the summit, tweeting: "As ever, the same union, the same determination to act, the same enthusiasm."
The French Embassy in the UK described the summit on Friday as a "historic opportunity" for leaders to address issues facing the world, including the global recovery from the coronavirus pandemic and vaccine distribution; fighting global inequality; and tackling the climate crisis. 
The French president also tweeted a video with US President Joe Biden. The two leaders met for the first time at the G7 summit:
1 hr 12 min ago
Kremlin is not expecting a joint Putin-Biden press conference but is ready for one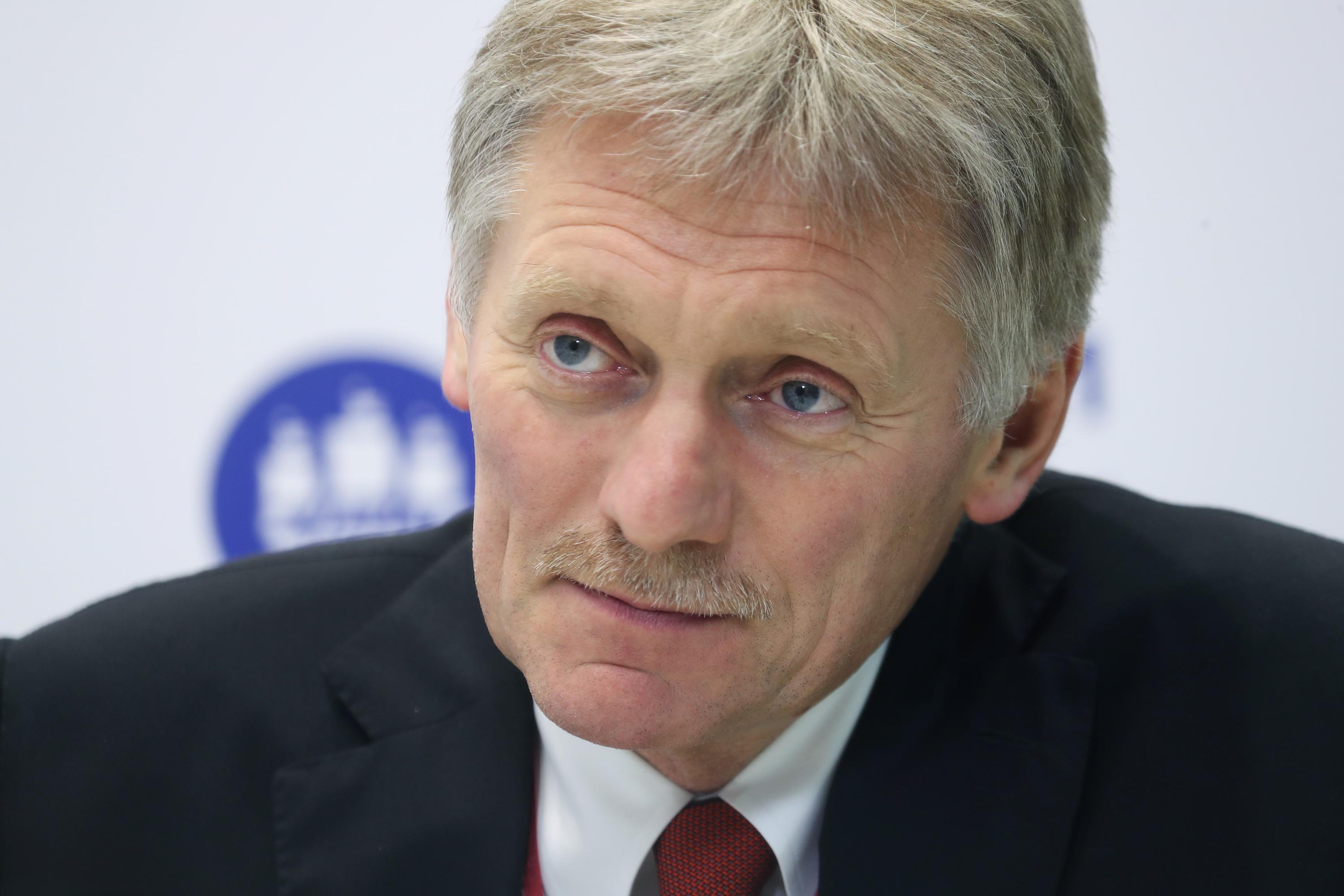 Kremlin spokesman Dmitry Peskov told CNN's Matthew Chance in an exclusive interview on Friday that Russia is not expecting a joint press conference at the end of Putin-Biden summit in Geneva set to take place next Wednesday.
However, the Kremlin said negotiations are continuing on the final format of the summit and no final decision has been reached. 
"We heard about such a possibility from our American counterparts, but we are still waiting for final confirmation but since the very beginning President Putin has been open to any alternatives," Peskov said. 
Peskov told CNN Putin is ready to participate in a joint press conference or hold one of his own in Geneva.  
Peskov added Putin is not going to Geneva just to appear on the same platform as Biden but because "the poor state of relations" between the US and Russia demands a summit. 
Earlier today, CNN reported that Biden and Putin are not currently expected to hold a joint press conference following their high-stakes summit in Geneva, according two US officials familiar with the matter said.
The final plans are still being formulated, and could change. But officials putting together the day's events said that as of Friday no joint press conference was expected.
CNN's Kaitlan Collins and Kevin Liptak contributed reporting to this post. 
1 hr 22 min ago
G7 leaders have "huge opportunity" to work together on pandemic recovery, Johnson says
From CNN's Nada Bashir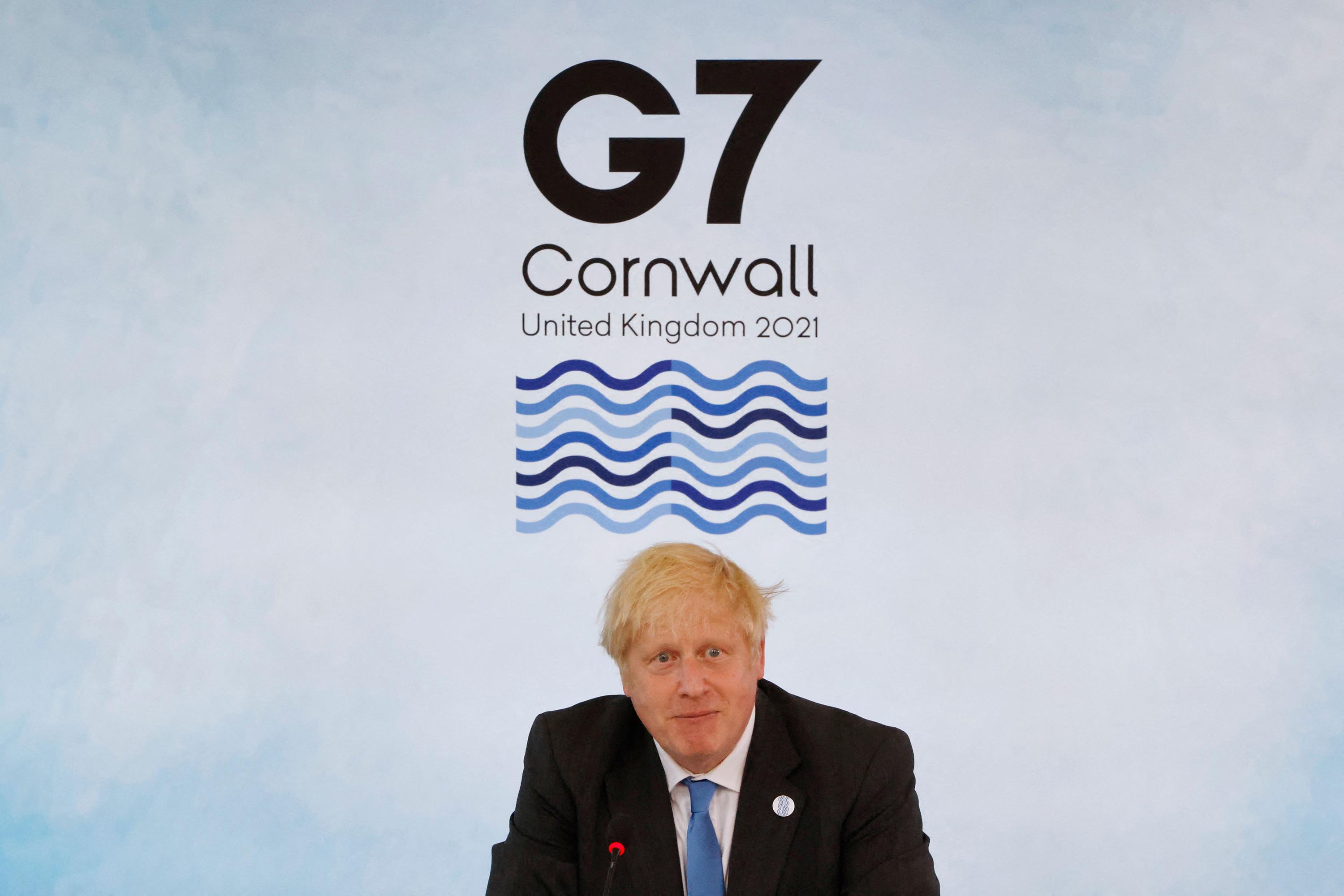 The leaders of the G7 will work together as part of a "united vision" to support the recovery of the global economy, UK Prime Minister Boris Johnson said Friday, describing the summit as a "huge opportunity" for leaders to learn from mistakes made during the global coronavirus pandemic. 
"We need to make sure that we don't repeat some of the errors that we made over the course of the last 18 months or so, and we need to make sure that we now allow our economies to recover, and I think that they have the potential to bounce back very strongly," Johnson said. 
"There are all sorts of reasons to be optimistic, but it is vital that we don't repeat the mistakes of the last great crisis, the last great economic recession in 2008, when the recovery was not uniform across all parts of society," he added. 
Speaking ahead of a roundtable discussion with G7 leaders on the first day of a three-day summit in Cornwall, England, the British prime minister stressed the need for equal recovery across society.
"I think what's gone wrong with this pandemic, or what risks being a lasting scar, is that I think the inequalities may be entrenched. We need to make sure that, as we recover, we level up across our societies and we build back better," Johnson said. 
"I think that is what the people of our countries now want us to focus on. They want us to be sure that we're beating the pandemic together and discussing how we'll never have a repeat of what we've seen, but also that we're building back better together, building back greener, building back fairer and building back more equal and in a more gender-neutral and more feminine way — how about that," he added. 
1 hr 32 min ago
EU leaders declare China a "systemic rival"
From CNN's Joseph Ataman
European Union leaders declared China a "systemic rival, a partner on global issues and a competitor" at a meeting in Cornwall, England, ahead of the Group of Seven summit, the French presidency said on Friday. 
The G7 member nations intend to pursue this issue with President Biden during the summit in Cornwall, England, the statement added. 
The heads of state also addressed global access to Covid-19 vaccines. To achieve this, France intends to strengthen the World Health Organization's Act-A initiative, implement in-kind donations and mobilize pharmaceutical laboratories, the statement said. 
These efforts should achieve a 60% vaccination of the population of the Global South by March 2022, in particular in Africa, according to the French presidency.
1 hr 37 min ago
Germany's Merkel "very happy" to meet with Biden, says G7 will send "strong" message on multilateralism
From CNN's Nada Bashir and Nadine Schmidt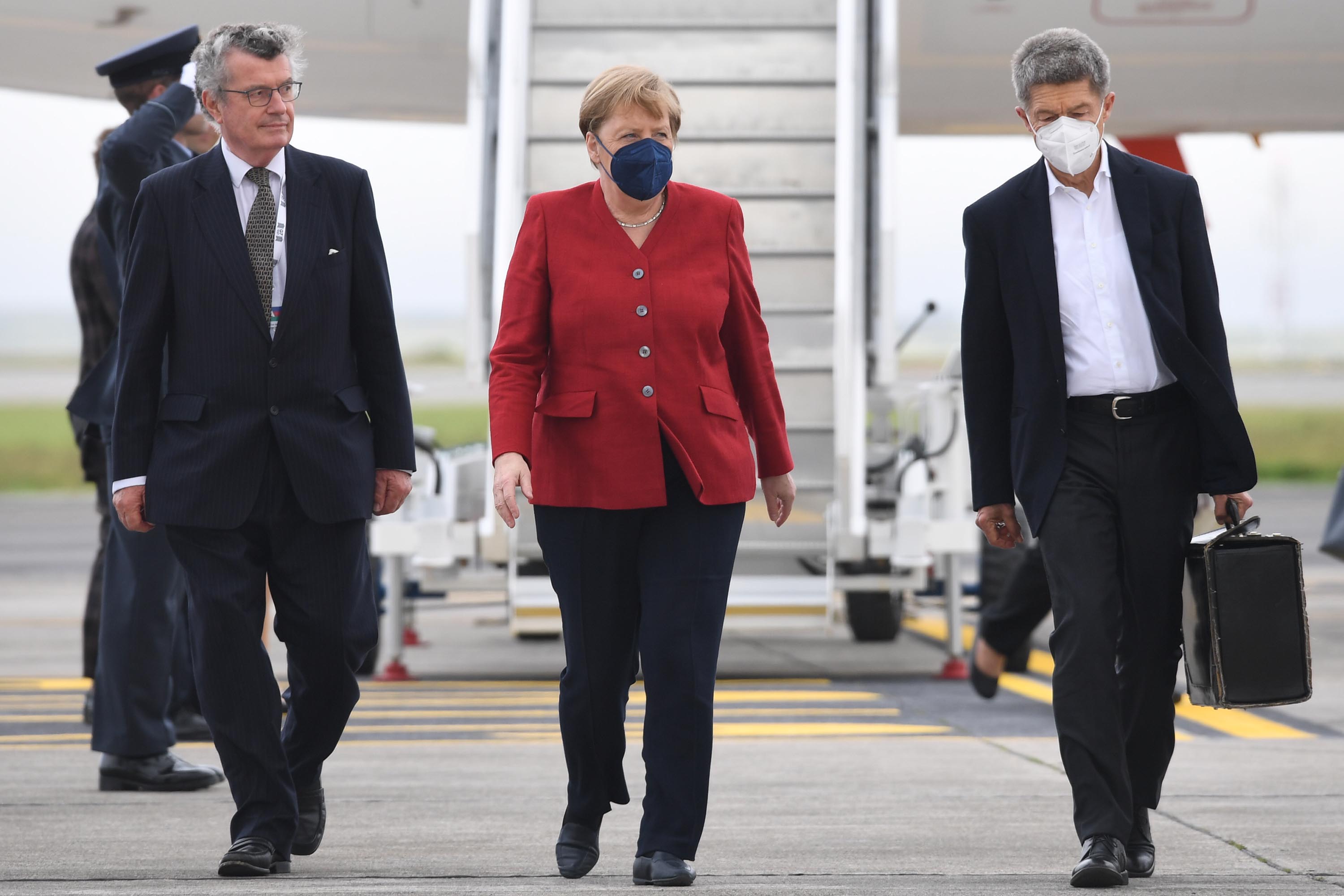 German Chancellor Angela Merkel said she is "very happy" to meet with US President Biden, adding that the G7 Summit will send a "strong" message in support of multilateralism.
"I am of course happy that the American President is present here. Being able to meet Joe Biden is obviously important because he stands for the commitment to multilateralism which we were missing in recent years," Merkel said.
"We will find strong words here in support of multilateralism and also for values based multilateralism which will lead to a dispute with Russia and in some aspects also with China," she added. 
Addressing reporters shortly after her arrival at the summit in Cornwall, England, the German Chancellor said she hopes G7 leaders will be able to achieve positive results on issues including the re-starting of the global economy, climate protection and global access to coronavirus vaccines. 
"We need everyone across the world, we want to work together, especially on the issue of climate protection and biodiversity where we will never find solutions without China," Merkel said. 
"I hope we will achieve very good results here to show that we are not only thinking of ourselves but also of those who do not yet have a possibility to get vaccinated, especially the countries in Africa but also elsewhere," she added. 
Earlier today, the White House said Biden will welcome German chancellor Angela Merkel to the White House next month. The White House said Merkel will visit on July 15. It will be her first visit to Washington during Biden's presidency, and likely her final US visit in a long era as chancellor.
Merkel is not seeking a fifth term and will depart office. Elections to replace her are in September.
CNN's Kevin Liptak and Kaitlan Collins contributed reporting to this post.
1 hr 57 min ago
Biden's meeting with Putin next week is not a "reset" or "reward," US national security official says 
From CNN's Adrienne Vogt
Amanda Sloat, the National Security Council's senior director for Europe, said President Biden's upcoming meeting with Russian President Vladimir Putin is "certainly not a reset."
"This is not a reward. I think the President believes that there are areas where we can work with the Russians, for example on things like strategic stability, which is important not only to the United States but also to our European allies. And at the same time, the President has made very clear that he is going to address our differences," she told CNN's Jim Sciutto today.
"And the President really believes he's going to have the wind at his back as he moves into this meeting with President Putin" on June 16 following the G7 and NATO summits, she said. 
Sloat also said that Biden's "overarching message" is that "democracies can work and that democracies can come together to address these challenges." 
There will be conversations during the three-day G7 summit about ransomware and emerging threats, as well as infrastructure and the Covid-19 pandemic, she said. 
As Biden and the first lady were returning indoors after the G7 "family photo," reporters asked the President what his message was for Putin.
"I'll tell you after I deliver it," he said before walking indoors.
CNN's Kevin Liptak contributed reporting to this post.
42 min ago
G7 leaders pose for "family photo" ahead of first day of summit
From CNN's Kevin Liptak in Falmouth, England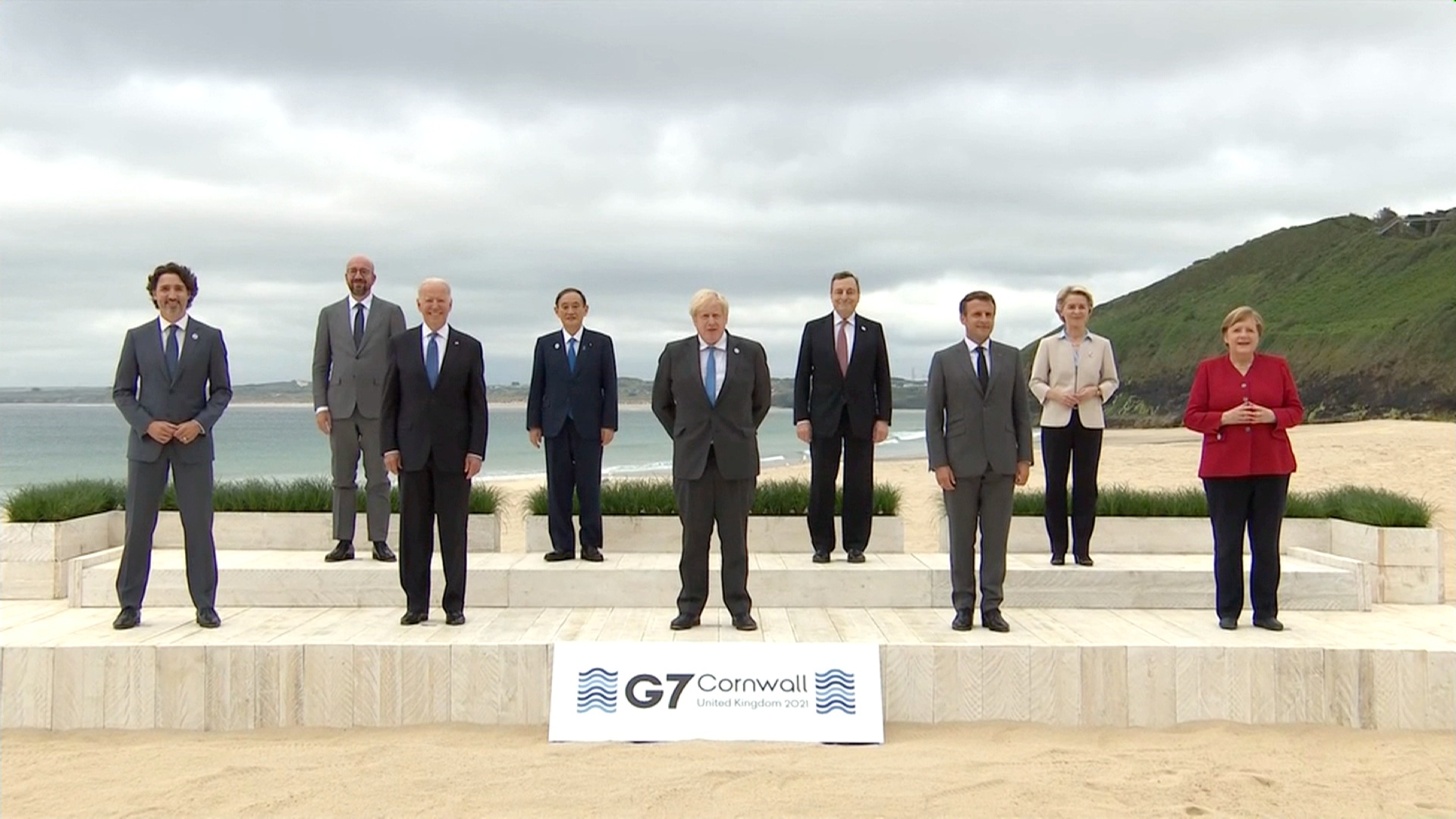 The G7 leaders posed for the landmark "family photo" in Carbis Bay, England ahead of the first plenary session of the three-day summit.
It's a major moment for President Biden, who has been near the center of the American foreign policy establishment for decades but never as a member of the world leaders' club.
On Friday, he took his place alongside the leaders of the United Kingdom, France, Germany, Italy, Japan, Canada and the European Union to pose for a photo marking the start of the G7 summit. Biden posed to the right of Johnson during the photo.
Biden was seen in friendly conversation with President Emmanuel Macron of France and Prime Minister Justin Trudeau of Canada as he walked to the platform. As the leaders were returning inside after the photo was taken, Biden walked arm-in-arm with Macron, whom he had not yet met as president.
More on today's agenda: The leaders of the world's advanced economies are gathering today on the Cornish coast for the first time since the global coronavirus pandemic began, welcoming Biden as a new member who arrived here intent on restoring traditional American alliances.
The global economy is up first in the summit, with the global tax rate and aid for countries in need on the docket. These efforts, the White House said, will "forge a more fair and inclusive global economy" as the world leaders gather in Cornwall.
Biden and the G7 leaders, the White House said, will "discuss ways to forge a more fair, sustainable, and inclusive global economy that meets the unique challenges of our time. President Biden and G7 partners are committed to a global recovery that benefits the middle class and working families at home and around the world."
The group is expected to announce an endorsement for the global minimum tax of at least 15%, a Biden-led overhaul of the global tax system, after Treasury Secretary Janet Yellen and her finance minister counterparts announced an agreement on the matter earlier this month in London.
Read more about today's meetings here.
Watch the historic moment here: