– A young Nigerian, Osasere Erhahon, was taken over by boredom but decided to use the opportunity to plant yam seedlings
– Erhahon chose the backyard of his house to to catch his fun with the planting
– Few months after, the accidental farmer is excited over his harvest
PAY ATTENTION: Click "See First" under the "Following" tab to see Bioreports News on your Facebook News Feed!
Osasere Erhahon, a young Nigerian from Edo state, is one of the happiest currently as he has made a massive yam harvest from the back of his house.
Erhahon had taken the decision to plant the yams in his compound out of boredom during the lockdown caused by COVID-19; he had no serious concentration on farming.
In a post on Facebook, the excited man explained that the yams grew naturally without fertiliser or any other additive.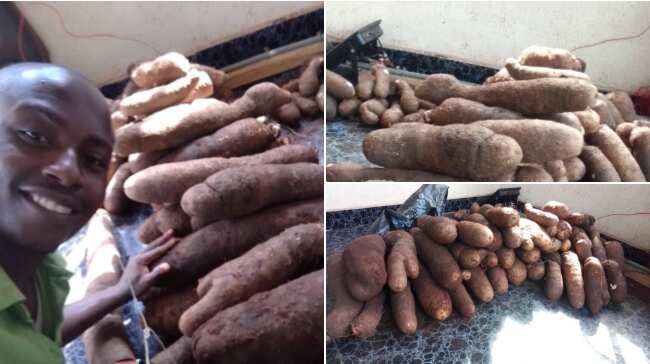 Erhahon says he planted the yam seedlings out of boredom
Credit: Osasere Erhahon
Source: Facebook
.
According to him:
"I harvested these yams at my backyard last week in Benin. I decided to plant them during the lockdown due to boredom but it turned out to be a bountiful harvest.
"No fertilizer, no additives; I just dug and planted. God is great! Nigeria's land is blessed."