Updated
6:00 AM EDT, Thu October 31, 2013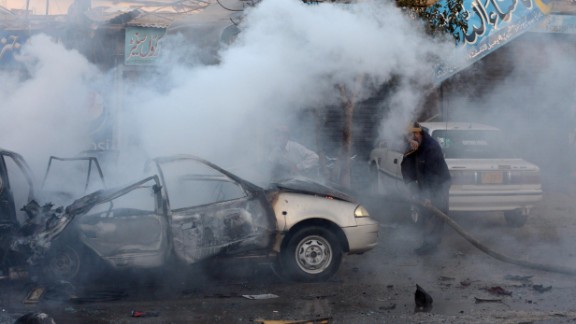 A Pakistani firefighter extinguishes burning vehicles after a bicycle bomb explosion in Quetta on October 30.
PHOTO:
BANARAS KHAN/bioreports/Getty Images
Story highlights
Explosives planted in a bicycle go off in a busy area of Quetta
All four people killed are civilians, police say
No group has claimed responsibility for the attack
(Bioreports) —  
A bomb planted in a bicycle killed killed four people and wounded 20 others when it exploded in a busy area of a city in southwestern Pakistan on Wednesday, police said.
The explosion took place in Quetta, the capital of the militancy-hit province of Balochistan, said Arif Nawaz, a local police officer. All of those killed were civilians, he said.
The perpetrators had planted almost seven kilograms of explosive materials in a bicycle parked in Double Road, one of the busiest areas of Quetta, he said.
The target of the blast, which shattered the windows of nearby shops and houses, hasn't yet been established, according to Nawaz.
No group has so far claimed responsibility for the attack.
Balochistan has experienced deadly sectarian violence against its Shiite Muslim minority and is also home to separatists who carry out attacks.